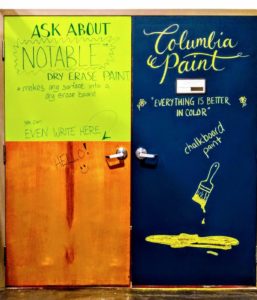 If you are looking for an affordable, easy to use dry erase paint, Notable is for you! It comes in white or clear; today we will be demonstrating how to apply clear Notable paint over a bright color for a durable, dynamic look.
Painting with Notable is as easy as 1-2-3!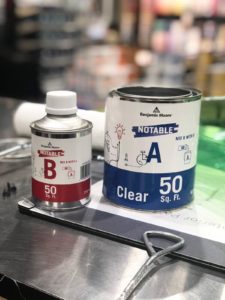 Step 1: Mix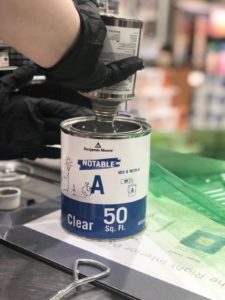 *Be sure to wear gloves for this step!*
Pour part B into part A and stir for 2 minutes. Do not use a stir stick with that has ink/paint on it because it can stain the paint. Do not shake! Notable can be applied immediately but must be applied within 4 hours of mixing. Do not use a plastic tray liner for rolling.
Step 2: Apply
Use in an area with plenty of ventilation. Brush to cut in the edges, if desired. Use the roller cover provided in the kit. The product should be applied 50 square feet at a time. Don't overload the roller cover and use minimal pressure to avoid drips. Wait 5-10 minutes and then apply a second coat on the wet film. Any wet areas that need to be touched up must be don't within 30 minutes.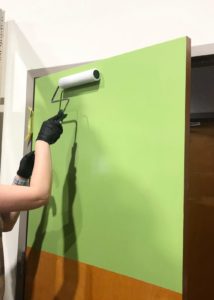 Step 3: Wait
Wait 7 days for the paint to cure. Then, right away! It is safe to use any standard dry erase marker and remove marks with any standard dry eraser.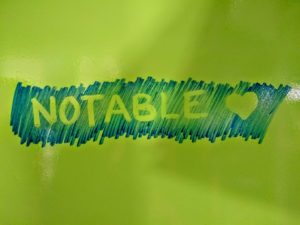 If you would like to use notable in your home or office, come see us at Columbia Paint or Clarksville Paint and Decorating Design Centers for one on one assistance. We are a Benjamin Moore Paint and Fine Paints of Europe dealer, and have over 300 wallcovering and fabric books. We also carry rugs, window coverings, and everything you need to paint your space.
NEW LOCATIONS! COME VISIT US AND EXPLORE!
We've moved from the Dobbin Road location to our new, roomy location just down the road:
Columbia Paint and Decorating, a Benjamin Moore Dealer
6822 Oak Hall Lane, Suite C2,  Columbia MD 21045
443-319-4001
Expect the same one-stop shopping for all your decorating needs. We are a full-service Benjamin Moore dealer offering the best quality of decorating products at the best prices around. We have a large supply of paint and paint supplies, wallcoverings, custom window treatments, fabrics and now NEW flooring selections from Kaleen Rugs and Luxury Vinyl Tile selections. And of course the same excellent customer service, knowledge and customer satisfaction that you've come to expect.
ANNOUNCING OUR SECOND LOCATION:  
Clarksville Paint & Decorating, a Benjamin Moore Dealer
12447 Clarksville Pike, Suite 1A, Clarksville, MD
443-552-1111
Get in Touch with Columbia Paint Company Today
Columbia Paint Company is happy to help you choose the perfect color for your painting project and offer you tips for every step of the way. Not sure how to make sure your siding, trim, and accent colors match? Need to see the paints you loved online in person? Schedule an appointment today by calling 443-319-4001 or visiting us online. For more painting tips and updates, follow us on Facebook, Twitter, Google+, LinkedIn, Houzz, YouTube, and Pinterest!