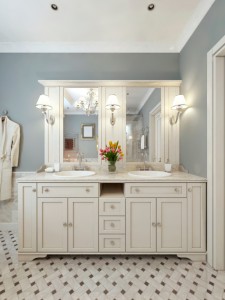 Are you thinking about repainting your bathroom? In that case, you'll want to read up on which colors to use. Many paint colors are out there, so how can you decide which one to pick? Well, that's a great question. We've compiled this list of classic paint colors that you can use when painting your bathroom.
Light And Dark Shades Of Blue
Choose lighter and gentler blue tones to bring vitality into your bathroom. If you have houseplants in your area, they will also benefit from the light blue. Darker blues, on the other hand, may also be appealing. The depth of darker blues often adds to their visual attractiveness. Larger bathrooms will benefit from these types of colors. These sophisticated tones also work well as accent walls.
A Blend Of Grey And White
Surprisingly, grey and off-white colors create a hygienic atmosphere. Many other aspects of a modern bathroom include nickel-brushed fixtures, marble worktops, and whitewashed cabinets. This is also an excellent option for those wanting a clean look with a slightly more conservative color.
Brown
Brown is the color you use to create a relaxing, earthy atmosphere in your bathroom. Regardless of shade, brown gives a cozy, spa-like ambiance within your home. Coupled with metallic gold accents, a darker brown creates a more dramatic effect and a sophisticated look. A softer light brown can be a neutral backdrop for accent colors like beige.
NEW LOCATIONS! VISIT THE US AND EXPLORE!
We've moved from the Dobbin Road location to our new, roomy location just down the road:
Columbia Paint and Decorating, a Benjamin Moore Dealer
6822 Oak Hall Lane, Suite C2, Columbia, MD 21045
443-319-4001
Expect the same one-stop shopping for all your decorating needs. We are a full-service Benjamin Moore dealer offering the best quality decorating products at the best prices. We have an ample supply of paint and paint supplies, wallcoverings, custom window treatments, fabrics, and now NEW flooring selections from Kaleen Rugs and Luxury Vinyl Tile samples. And, of course, the same excellent customer service, knowledge, and customer satisfaction that you've come to expect.
ANNOUNCING OUR SECOND LOCATION:
Clarksville Paint & Decorating, a Benjamin Moore Dealer
12447 Clarksville Pike, Suite 1A, Clarksville, MD