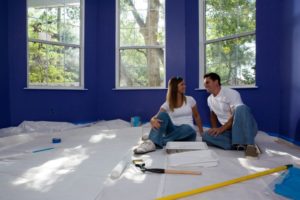 A professional painting contractor can help refurbish your walls. They can quickly tell you which areas and rooms of your home need a fresh coat of paint. If you need more understanding on a fresh coat of paint, here are a few signs to let you know it's time to repaint your home.
Your Paint Is Fading
This is an excellent time to paint your walls if they are less colorful than they once were. Fading happens gradually; low-quality paint, incorrect methods, or chemical agents can also cause fading. Although both paint colors will eventually fade, darker paint colors fade more quickly than lighter colors. Even the most advanced fade-resistant paints today eventually succumb to wear and strain as the years go by.
Cracking Paint
Inadequate surface preparation, excessive weather conditions, or old paint are all potential causes of cracking paint. Cracked paint not only looks terrible, but it could also be a gateway for dampness or attract rodents that you don't want in your house. It's time for a fresh coat of paint if the inside surfaces of your home have any flaking or bubbling.
Your Walls Are Damaged
Scuffs, chips, cracks, holes, and missing paint detract from the appearance of a house. The walls should be repaired if the house has numerous damage-prone places. Before painting water-damaged walls, the drywall needs to be fixed or replaced. If damaged, damp drywall isn't repaired immediately, it could result in mold growth and several other problems.
You're Selling Your Home
Painting a house before putting it on the market is a significant investment. The freshly painted walls draw buyers more to your home, accelerating the sale. The interior painting also has the delightful side effect of increasing revenues when the house is sold. Before putting a residence on the market, experts advise painting it a neutral color to attract more prospective buyers.
NEW LOCATIONS! VISIT THE US AND EXPLORE!
We've moved from the Dobbin Road location to our new, roomy location just down the road:
Columbia Paint and Decorating, a Benjamin Moore Dealer
6822 Oak Hall Lane, Suite C2, Columbia, MD 21045
443-319-4001
Expect the same one-stop shopping for all your decorating needs. We are a full-service Benjamin Moore dealer offering the best quality decorating products at the best prices around. We have an ample supply of paint and paint supplies, wallcoverings, custom window treatments, fabrics, and now NEW flooring selections from Kaleen Rugs and Luxury Vinyl Tile samples. And, of course, the same excellent customer service, knowledge, and customer satisfaction that you've come to expect.
ANNOUNCING OUR SECOND LOCATION:
Clarksville Paint & Decorating, a Benjamin Moore Dealer
12447 Clarksville Pike, Suite 1A, Clarksville, MD