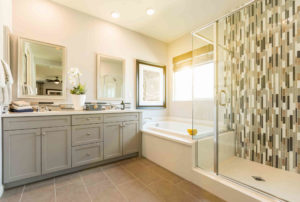 Interior painting might be difficult if you lack experience. When you have a painting project, it can be difficult to accomplish it if you don't know where to begin. When it comes to painting your bathroom, there are various factors to consider. Before painting your bathroom, be sure to consider the following five suggestions.
Clean Your Bathroom Before Painting
Cleaning your bathroom thoroughly before painting is an important step in the process. Your bathroom's walls are vulnerable to water damage and other sources of dirt and grime. Before painting, clean the walls and the rest of the bathroom to achieve a complete final product.
Utilize Warm Colors
Bathrooms are often among the smaller places in your home. Another important point to remember is that your paint colors should be light. Dark colors can make a space appear smaller. Warmer hues can make a modest bathroom feel more inviting and undeniably more significant.
Account For Moisture
Keep in mind that bathrooms are continually damp. Having said that, it would be advantageous to select a paint that can tolerate and retain high humidity. You don't need to buy special paint for your project, but you will need paint that is resistant to moisture and factors like mold and mildew.
Shine Around The Bathtub Or Shower
Painting the shower isn't always the best idea, but if you do, choose a glossy finish for your areas to improve the aesthetic of your bathroom. Shiny paint is preferable if your shower is made of painted drywall rather than tile.
Remove The Toilet Tank
Save yourself the energy of trying to paint around your toilet tank. It's a procedure that would involve a lot of cooperation and still wouldn't guarantee perfect paint application. Before you begin, remove the toilet tank. It is a straightforward procedure with no mess. Simply turn off the water supply at the toilet's base, flush to remove any remaining water, and place the tank on the floor with a few old towels while you paint.
NEW LOCATIONS! VISIT THE US AND EXPLORE!
We've moved from the Dobbin Road location to our new, roomy location just down the road:
Columbia Paint and Decorating, a Benjamin Moore Dealer
6822 Oak Hall Lane, Suite C2, Columbia, MD 21045
443-319-4001
Expect the same one-stop shopping for all your decorating needs. We are a full-service Benjamin Moore dealer offering the best quality decorating products at the best prices around. We have an ample supply of paint and paint supplies, wallcoverings, custom window treatments, fabrics, and now NEW flooring selections from Kaleen Rugs and Luxury Vinyl Tile samples. And, of course, the same excellent customer service, knowledge, and customer satisfaction that you've come to expect.
ANNOUNCING OUR SECOND LOCATION:
Clarksville Paint & Decorating, a Benjamin Moore Dealer
12447 Clarksville Pike, Suite 1A, Clarksville, MD