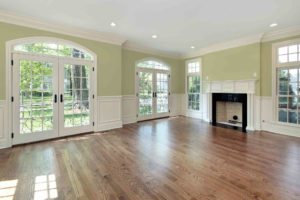 Are you looking for interesting ways to refresh the interior of your home? As we move deeper into October, it's a good time to bring in the season's colors. Autumn is well-known and loved for its glorious blaze of reds, yellows, browns, and oranges. Capturing that intensity in your interior design doesn't have to feel overwhelming, either. Have you considered mixing and matching wall colors with those of your floors? It might sound like unconventional advice, but it can pay off in spades! 
When You Have Lighter Floors 
Let's begin with some suggestions for lighter-toned flooring options. One simple solution is to choose light paint for the walls. By doing this, you can make the room look and feel cleaner. It also opens up the room when it feels too closed-off or cramped. Plain white walls are great, but you can (and should) experiment with off-white shades and creams instead. That way, there'll be a bit of warmth instead of just feeling cold, sterile, and worst of all, boring! Painting your walls in neutral colors is another fantastic choice since you can play around with various colors: grey, beige, taupe, and greige!  
When You Have Grey-Toned Floors 
Matching grey-toned floors with appropriate wall colors can be a little more confusing. For instance, if you pair grey-on-grey, it's a poor design choice. It's drab and monochromatic, neither of which you want for your renewed aesthetic. Tones of blue work wonders, especially if you lean in the direction of ice and navy blue. Avoid aqua and turquoise; they have too much greenish tint in them. Blue-greys are possible, as long as you concentrate on the blue and deemphasize the grey. 
White and green, surprisingly, do work. We know what we said above, but you can skirt the rules as long as you do it with the utmost care. In this case, steer clear of any whitish wall colors that are tinged with yellow. Cooler and purer whites fit the bill better. 
Dusty greens are a good choice, too; despite what we advised about greens (in general, that is), sage and pale green are wonderful tones to choose from when you want to add some energy without being too exuberant.  
When You Have Darker Floors 
Finally, let's chat about your solutions when you need to match darker floors with complementary wall colors. Lighter colors sidestep the possibility that dark-on-dark could fall out of fashion. Be careful about how you blend undertones with overtones, though!
NEW LOCATIONS! VISIT US HERE AND EXPLORE!
We've moved from the Dobbin Road location to our new, roomy location just down the road:
Columbia Paint and Decorating, a Benjamin Moore Dealer: 6822 Oak Hall Lane, Suite C2, Columbia MD 21045 phone number: 443-319-4001
Expect the same one-stop shopping for all your decorating needs. We are a full-service Benjamin Moore dealer offering the best quality decorating products at the best prices around. We have ample paint and paint supplies, wallcoverings, custom window treatments, fabrics, and now, NEW flooring selections from Kaleen Rugs and Luxury Vinyl Tile samples. And, of course, the same excellent customer service, knowledge, and customer satisfaction that you've come to expect.
ANNOUNCING OUR SECOND LOCATION:
Clarksville Paint & Decorating, a Benjamin Moore Dealer
12447 Clarksville Pike, Suite 1A, Clarksville, MD