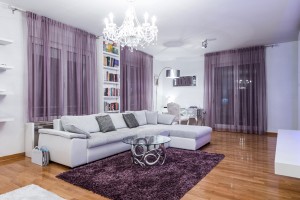 Finding the perfect colors for your window treatments can be overwhelming, confusing and time-consuming. In fact, it is often a very overlooked aspect of home decor. However, it doesn't have to be this difficult. The reality is, finding the right colors for your window treatments can be easier than you think. Here are some helpful colors that will ensure you love your window treatments and the overall aesthetic of your humble abode.
A Perfect Match
There is nothing better than having your window treatments match the rest of the decor in your home. In fact, matching your window treatments to the wall color in your home is a very safe decor option. This is the beginning of the palette. Having matching colors throughout a space provides a certain vibe that you can't replicate in any other way. Instead of decorating your space based on a single item, focus your energy on providing the room with colors that you naturally gravitate towards. It can be a real game-changer in the way you decorate a space and the overall feelings you experience when being in the space itself. 
Think About The Materials
One of the key components to nailing your window treatments colors is to consider your materials. In fact, it's ultimately your lifestyle that'll dictate the specific materials you choose to use as your window treatment. As a result, quality linen is often a top choice for homeowners looking to embrace a serene vibe in their home. If that's the choice you've made, opting for neutral colors like cream or oatmeal can often compliment that specific material very well. 
Feelings Are Important
Think about how exactly you want to feel in your space. In fact, when you are considering a color option for your window treatment, ask yourself this very simple question: how would I like to feel? Do you want a relaxing feeling in the room? Maybe you are looking for a productive feeling in a room. Whatever it is you need, consider how different colors evoke certain moods which can ultimately help you make the best color decision for your window treatments. 
NEW LOCATIONS! COME VISIT US AND EXPLORE!
We've moved from the Dobbin Road location to our new, roomy location just down the road:
Columbia Paint and Decorating, a Benjamin Moore Dealer
6822 Oak Hall Lane, Suite C2, Columbia MD 21045
443-319-4001
Expect the same one-stop shopping for all your decorating needs. We are a full-service Benjamin Moore dealer offering the best quality of decorating products at the best prices around. We have a large supply of paint and paint supplies, wallcoverings, custom window treatments, fabrics and now NEW flooring selections from Kaleen Rugs and Luxury Vinyl Tile selections. And of course the same excellent customer service, knowledge and customer satisfaction that you've come to expect.
ANNOUNCING OUR SECOND LOCATION:
Clarksville Paint & Decorating, a Benjamin Moore Dealer
12447 Clarksville Pike, Suite 1A, Clarksville, MD
443-552-1111