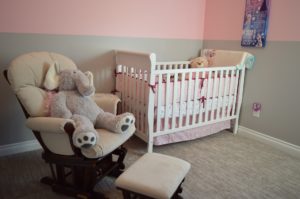 Parenthood can be a glorious feeling but also a nerve wracking one. Besides building the crib and reading every advice book you can find, you are probably thinking about repainting different parts of your home. What effects do the paint colors have on both your baby and the nursery in which they are supposed to sleep? Let's find out right now. 
Red 
Let's take a look at red first of all. It represents passion, excitement, and emotion. It's also a lucky color. With Lunar New Year still in season, it could be a good sign to use red and different shades of reddish paint colors. However, use it as an accent color and don't go overboard with it. Instead, consider pairing it with another color from your palette selection. 
Orange and Yellow
Orange and yellow are similar colors. They are also close on the spectrum to red. So what effects do they have? That is the question. For instance, orange paint colors are supposed to be warm and comforting. It is welcoming and helps facilitate conversations. Try experimenting with dark types or lighter types. 
Then also consider how to implement yellow. Have you ever noticed that egg yolks tend to be more orange than orange juice, which tends to lean towards yellow? Yellow is both lively and cheerful, so if you want your child to absorb those traits, then that color is a good choice! 
Green and Blue 
As cooler, calmer paint colors, you might be surprised by their effects. Green refreshes and nurtures, perfect for a sleepy infant. If you want to help teach your baby how to read, then green helps boost the attempt because it is highly beneficial in a place of learning. 
Finally, blue represents healing. It is also subtler than the other colors you could choose to use. Also blue makes productivity better, but it slows down appetite. Still, since it is cooling, it can help your toddler relax and feel cooler if they tend to run hot. 
NEW LOCATIONS! COME VISIT US AND EXPLORE!
We've moved from the Dobbin Road location to our new, roomy location just down the road:
Columbia Paint and Decorating, a Benjamin Moore Dealer
6822 Oak Hall Lane, Suite C2, Columbia MD 21045
443-319-4001
Expect the same one-stop shopping for all your decorating needs. We are a full-service Benjamin Moore dealer offering the best quality of decorating products at the best prices around. We have a large supply of paint and paint supplies, wallcoverings, custom window treatments, fabrics and now NEW flooring selections from Kaleen Rugs and Luxury Vinyl Tile selections. And of course the same excellent customer service, knowledge and customer satisfaction that you've come to expect.
ANNOUNCING OUR SECOND LOCATION:
Clarksville Paint & Decorating, a Benjamin Moore Dealer
12447 Clarksville Pike, Suite 1A, Clarksville, MD
443-552-1111