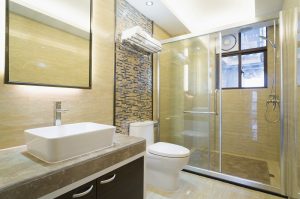 Once you're on the track to remodeling or building out a new bathroom, you need to figure out all of the little details. From the paint on the walls to, that's right, the floors beneath your feet—every little detail can make a difference. A new finish or design element can completely change how a bathroom feels. When it comes to flooring for your bathroom, you've got quite a few options to choose from so here is our breakdown on where to begin with hardwood bathroom floors. 
Using a Coating
As long as your bathroom design includes good ventilation and air flow, all you need is an extra-hard polyurethane top coat to keep your floors smooth and free of any issues. Damp resistant coatings are definitely a good idea, as they are water-tight and prevent mold from forming, allowing you to use your bathroom comfortably for years to come. Plus, those finishes add a nice aesthetic touch to your bathroom flooring as well.
Picking Your Wood
If you're opting for hardwood floors, you're also going to want to think about what kind of wood you're using. Harder woods are less likely to absorb any humidity left by using your bathroom regularly. This means the floor will also be less likely to warp or develop bubbling in the finish. Avoid softwoods like fir or pines and instead, look for harder woods, like ash, maple, or cherry.
Flooring Care Matters
Despite picking the best hardwood for your home and using a great finish to go along with it, you must think about the maintenance that comes with hardwood floors. Any spills should be wiped up quickly and in the bathroom, you want to make sure there is an edge of tile around the shower, toilet, or tub to prevent water from seeping into edges. If you don't want to use hardwood floors in your bathroom, you can always opt for other traditional options like tiles.
NEW LOCATIONS! COME VISIT US AND EXPLORE!
We've moved from the Dobbin Road location to our new, roomy location just down the road:
Columbia Paint and Decorating, a Benjamin Moore Dealer
6822 Oak Hall Lane, Suite C2, Columbia MD 21045
443-319-4001
Expect the same one-stop shopping for all your decorating needs. We are a full-service Benjamin Moore dealer offering the best quality of decorating products at the best prices around. We have a large supply of paint and paint supplies, wallcoverings, custom window treatments, fabrics and now NEW flooring selections from Kaleen Rugs and Luxury Vinyl Tile selections. And of course the same excellent customer service, knowledge and customer satisfaction that you've come to expect.
ANNOUNCING OUR SECOND LOCATION:
Clarksville Paint & Decorating, a Benjamin Moore Dealer
12447 Clarksville Pike, Suite 1A, Clarksville, MD
443-552-1111