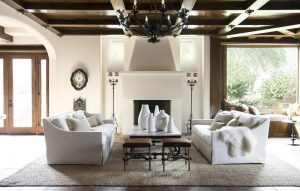 Learning more about interior design is always a fun goal to pursue. If you want to revitalize your home or help kick your remodeling project up a notch, some new paint could help. What about rearranged furniture? Yes, that makes a tremendous difference as well. Let's find out more together! 
Seven Principles of Design
When it comes to interior design, there are seven principles in play. These concepts are all ones that you must be mindful of, but luckily, you can have all of the help you need! You might have heard about some of them through your hours watching interior-design-focused TV shows and poring over Internet research:
Unity –

The first element of good design is called unity. This component values harmony and uniformity through the space that you are working on, whether it is one room or the entire floor!
Balance – 

Bringing balance is quite literally the name of the game. In this case, you strive for visual balance; a symmetrical, asymmetrical, and radial design are all acceptable! 
Rhythm –

The next piece of the puzzle is rhythm. There is a sense of connection and movement between each part of the room, like what a ballet dancer or figure skater would demonstrate.  
Emphasis –

Emphasis is something that you can't forget. Forgetting about this could mean that you aren't highlighting one part of your design that fills you with pride. In other words, what is the focal point or anchor supposed to be?
Contrast –

Contrast plays a big part in making art more impressive. Take that idea and run with it.
Scale –

You can't overlook the importance of scale, either. Dimensions and other attributes such as size, color, and shape have an impact as well.
Details –

  What details or accents do you want to include? Without an answer to this question, making any progress could be held up. 
Trying to Find a Balance
You can get even more help optimizing the look and feel of your home. Just ask the experts at Columbia Paint or Clarksville Painting and Decorating Design Centers and we can give you personalized assistance in fulfilling all of your dreams, wishes, and interior design desires!
NEW LOCATIONS! COME VISIT US AND EXPLORE!
We've moved from the Dobbin Road location to our new, roomy location just down the road:
Columbia Paint and Decorating, a Benjamin Moore Dealer
6822 Oak Hall Lane, Suite C2, Columbia MD 21045
443-319-4001
Expect the same one-stop shopping for all your decorating needs. We are a full-service Benjamin Moore dealer offering the best quality of decorating products at the best prices around. We have a large supply of paint and paint supplies, wallcoverings, custom window treatments, fabrics and now NEW flooring selections from Kaleen Rugs and Luxury Vinyl Tile selections. And of course the same excellent customer service, knowledge and customer satisfaction that you've come to expect.
ANNOUNCING OUR SECOND LOCATION:
Clarksville Paint & Decorating, a Benjamin Moore Dealer
12447 Clarksville Pike, Suite 1A, Clarksville, MD
443-552-1111