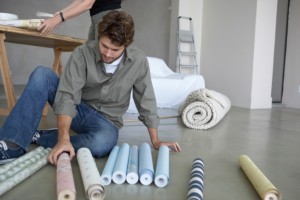 When it comes to styling their homes' walls, many people paint. However, wallpaper is an excellent and often overlooked option for interior decorating. It can add flair and luxury to your house, and it comes in numerous design and style options that are long-lasting and gorgeous. If you're looking for the perfect wallpaper for your home, consider one of Thibaut's types.
Artisan
If you're searching for a high-quality and traditional look for your home, Thibaut's artisan wallpaper option is worth considering. It celebrates innovative techniques while maintaining a classic style. Artisan offers the perfect combination of beauty and tradition for your home.
Cypress
Enhance your living space with a touch of old-world charm by choosing the Cypress wallpaper by Thibaut. This exquisite wallpaper draws inspiration from traditional Indian printing techniques and craftsmanship. You can also create a modern look by pairing it with subdued colors to showcase its intricate block prints and embroideries.
Faux resource
Have you considered using faux resource wallpaper in your home decor? This type of wallpaper draws inspiration from various resources, such as corks, snakeskin, and marble, creating a textured and visually dynamic feel. For a more natural and eco-friendly option, you could try grasscloth resource wallpaper, which weaves natural fibers like jute, seagrass, and raffia to bring the peaceful ambiance of the outdoors inside your home. The result is a three-dimensional, serene look that adds warmth and beauty to any room.
Seaside
If you're fond of the sea, why not bring its essence into your home with Thibaut's seaside wallpaper? It captures the serene feeling and happy memories of summer by the sea with various coastal design themes. These wallpapers are visually stunning and create a warm and inviting atmosphere. They effortlessly catch the attention of anyone who enters your living space.
NEW LOCATIONS! VISIT THE US AND EXPLORE!
We've moved from the Dobbin Road location to our new, roomy location just down the road:
Columbia Paint and Decorating, a Benjamin Moore Dealer
6822 Oak Hall Lane, Suite C2, Columbia, MD 21045
443-319-4001
Expect the same one-stop shopping for all your decorating needs. We are a full-service Benjamin Moore dealer offering the best quality decorating products at the best prices around. We have an ample supply of paint and paint supplies, wallcoverings, custom window treatments, fabrics, and now NEW flooring selections from Kaleen Rugs and Luxury Vinyl Tile samples. And, of course, the same excellent customer service, knowledge, and customer satisfaction that you've come to expect.
ANNOUNCING OUR SECOND LOCATION:
Clarksville Paint & Decorating, a Benjamin Moore Dealer
12447 Clarksville Pike, Suite 1A, Clarksville, MD