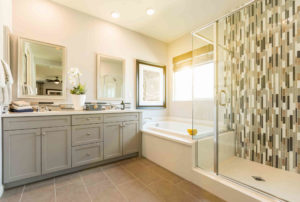 Painting your bathroom can make a significant difference in its appearance. Choosing the right color can convert a dull, ordinary-looking bathroom into a spotless, immaculate sanctuary. Let's explore the top paint colors that can be used for bathrooms to enhance their aesthetic appeal.
White
Regarding bathroom design, white paint is a top choice for many homeowners. It can make a room feel more spacious and inviting while providing a clean and crisp aesthetic. In addition to its aesthetic appeal, white paint is also great for increasing the brightness and energy of a bathroom, especially when paired with proper lighting. Another advantage of white is its versatility – it can be easily incorporated into any bathroom decor style.
Beige
Neutral colors are often sought in interior design, and beige is a popular choice due to its versatility. Beige colors typically contain hints of brown, creamy white, and grey, which combine to create a warm and inviting hue that complements a wide range of color palettes.
Lavender
Adding a pop of color to a small bathroom can make it look visually appealing. One modern color that can be used is lavender, which balances warm and cool hues. The color exudes a calming effect, making it perfect for a bathroom where relaxation is essential.
Baby Blue 
If you want to transform your bathroom into a relaxing coastal oasis, consider using a light and airy blue shade. This color can provide spa-like energy and a refreshing feel. Additionally, if your bathroom has access to natural light, it can enhance the overall effect and create a more energizing atmosphere.
Grey
When selecting a paint color scheme for your home decor, it's vital to choose colors that complement each other well. One color that pairs particularly well with white and different neutral types of decor is grey. Another interesting fact about this paint hue is that it becomes brighter when exposed to higher-quality light. This information can be helpful when selecting the perfect shade for your bathroom.
NEW LOCATIONS! VISIT THE US AND EXPLORE!
We've moved from the Dobbin Road location to our new, roomy location just down the road:
Columbia Paint and Decorating, a Benjamin Moore Dealer
6822 Oak Hall Lane, Suite C2, Columbia, MD 21045
443-319-4001
Expect the same one-stop shopping for all your decorating needs. We are a full-service Benjamin Moore dealer offering the best quality decorating products at the best prices around. We have an ample supply of paint and paint supplies, wallcoverings, custom window treatments, fabrics, and now NEW flooring selections from Kaleen Rugs and Luxury Vinyl Tile samples. And, of course, the same excellent customer service, knowledge, and customer satisfaction that you've come to expect.
ANNOUNCING OUR SECOND LOCATION:
Clarksville Paint & Decorating, a Benjamin Moore Dealer
12447 Clarksville Pike, Suite 1A, Clarksville, MD