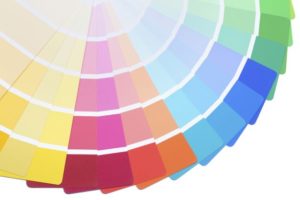 Colors can create illusions, inspire emotions, and set the atmosphere or mood in any room. Their use is an essential aspect of interior design. Choosing the right shade can produce remarkable results, while the wrong one could have adverse effects. The color theme of a room can make a significant difference in its functionality and the emotions it evokes. For improving concentration and productivity, specific colors are more effective than others. At Columbia Paint, we've compiled a list of paint colors to help boost productivity.
Blue
Creating a relaxing atmosphere can promote better mind flow and performance. It has been observed that creating a comfortable atmosphere by using colors can lower blood pressure and slow down the heart rate. Blue is a color that stimulates a better state of mind, so you can keep the ideas flowing continuously. Stronger shades of blue support the brain's thought processes, while lighter shades help improve concentration.
Orange
Keeping your work or study area organized can positively impact your focus, concentration, and creativity. Choosing the right brightness level is essential, as a strong and bright intensity can be stimulating and distracting. The color orange is ideal for an energy boost, so using the right hue is recommended to achieve optimal results.
Green
Green is one of the most restful colors as it combines the cheerful qualities of yellow with the refreshing abilities of blue. It is suitable for almost every part of the house but is particularly effective in home offices, study rooms, and bedrooms. Green has a calming effect as it is associated with the color of nature. It promotes a sense of security and reduces stress, allowing you to relax and think from a better perspective.
NEW LOCATIONS! VISIT THE US AND EXPLORE!
We've moved from the Dobbin Road location to our new, roomy location just down the road:
Columbia Paint and Decorating, a Benjamin Moore Dealer
6822 Oak Hall Lane, Suite C2, Columbia, MD 21045
443-319-4001
Expect the same one-stop shopping for all your decorating needs. We are a full-service Benjamin Moore dealer offering the best quality decorating products at the best prices around. We have an ample supply of paint and paint supplies, wallcoverings, custom window treatments, fabrics, and now NEW flooring selections from Kaleen Rugs and Luxury Vinyl Tile samples. And, of course, the same excellent customer service, knowledge, and customer satisfaction that you've come to expect.
ANNOUNCING OUR SECOND LOCATION:
Clarksville Paint & Decorating, a Benjamin Moore Dealer
12447 Clarksville Pike, Suite 1A, Clarksville, MD