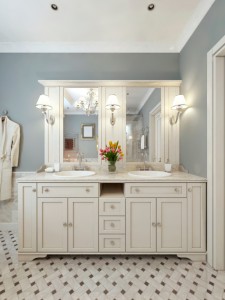 Are you planning to remodel your home? It can be overwhelming, especially with the holiday season approaching. A quick solution to spruce up your bathroom is to paint it. It can be finished in a weekend or less. But remember that bathrooms are often humid and can damage your work quickly. Regardless of your style, follow these tips to ensure your efforts are worth it.
Oil Or Latex? 
Water-based latex paints are an excellent choice for a bathroom as they can withstand wet conditions effectively. Although oil paint is highly durable, it requires mineral spirits for cleaning, which takes a long time to dry and emits harmful VOCs, causing health issues. Also, oil paint can turn yellow in unfavorable lighting conditions. Therefore, if you want to avoid these problems, it's better to choose washable latex paints that are easy to clean and won't cause any health hazards.
What Type Of Finish Should You Use 
After applying new layers, the next step is selecting a finish to protect them. Adding a finish is essential as it gives a shine, seals the color, and extends the life of the paint. It also makes the walls more resilient to mold and mildew growth. Choosing a semi-gloss or glossy finish that repels moisture infiltration is best. Although you may not immediately notice the molecular bond of the paint, it reduces moisture and speeds up the evaporation process. The most critical part of maintaining a bathroom is keeping it clean.
Think About Changing The Appearance Of The Ceiling 
When renovating a bathroom, it's important to protect the ceiling from potential steam damage by painting it correctly. For optimal outcomes, you should select a satin or semi-gloss finish.
NEW LOCATIONS! VISIT THE US AND EXPLORE!
We've moved from the Dobbin Road location to our new, roomy location just down the road:
Columbia Paint and Decorating, a Benjamin Moore Dealer
6822 Oak Hall Lane, Suite C2, Columbia, MD 21045
443-319-4001
Expect the same one-stop shopping for all your decorating needs. We are a full-service Benjamin Moore dealer offering the best quality decorating products at the best prices around. We have an ample supply of paint and paint supplies, wallcoverings, custom window treatments, fabrics, and now NEW flooring selections from Kaleen Rugs and Luxury Vinyl Tile samples. And, of course, the same excellent customer service, knowledge, and customer satisfaction that you've come to expect.
ANNOUNCING OUR SECOND LOCATION:
Clarksville Paint & Decorating, a Benjamin Moore Dealer
12447 Clarksville Pike, Suite 1A, Clarksville, MD