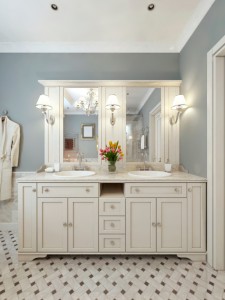 Are you thinking about repainting your bathroom over the weekend? In that case, you'll want to read up on which colors to use. Many paint color varieties are out there, so how can you narrow down which one you should pick? Well, that's a great question. We've compiled this list of classic paint colors that will never go out of style!
Lighter Blues for That Extra Clean Feeling 
The bright blue sky is a marvelous feature of a beautiful summer's day. Infuse that energy into your bathroom by choosing lighter and softer hues of blue. For example, consider using robin's egg blue to complement your porcelain sink. Light blue also boosts any lively houseplants you keep in here.
Richer Darker Blues That Adds Appeal 
On the other hand, you might be drawn to richer and darker blues instead. They might seem heavier at first, but that weight gives them more aesthetic appeal. Larger bathrooms will benefit from this touch since it will help them feel a bit smaller. These elegant tones also work as interesting accent walls.
The Awesomeness of Aquamarine 
You probably wouldn't expect aquamarine to be a suitable color for your rejuvenated bathroom. But it should be all right there in the name: marine. Since aquamarine looks like the ocean, it pairs well with natural light. It's another accent color that can give off a really fun pop!
A Mix of Grey and Off-White 
Greys and off-whites, surprisingly enough, give off a reassuringly sanitary vibe. For a sensational bathroom, that's the kind of feeling you want to achieve. Grayscale-based shades accentuate many other features in a sophisticated bathroom, such as nickel-brushed fixtures and granite countertops along with whitewashed cabinets. Beware of off-whites that carry yellowish undertones. Yellow is typically seen as a fun and happy color, but it's anything but zesty in a bathroom.
Warm Charcoal Browns That Embrace Nature
Finally, consider some earthier tones that you might not have thought were suitable for a stunning bathroom.  For instance, warm charcoal browns bring some of the great outdoors inside. Houseplants, vanity mirrors, and marble countertops are already known as ordinary but classy staples of bathroom decor. Why not take that idea and run with it? Go ahead and pump it up a notch, but do so with caution – the wrong shade of brown can be unsettling. That suggestion goes double for anything that veers into the territory of black or grey. They're a smidge too dark!
NEW LOCATIONS! VISIT US HERE AND EXPLORE!
We've moved from the Dobbin Road location to our new, roomy location just down the road:
Columbia Paint and Decorating, a Benjamin Moore Dealer: 6822 Oak Hall Lane, Suite C2, Columbia MD 21045
 443-319-4001
Expect the same one-stop shopping for all your decorating needs. We are a full-service Benjamin Moore dealer offering the best quality decorating products at the best prices around. We have ample paint and paint supplies, wallcoverings, custom window treatments, fabrics, and now, NEW flooring selections from Kaleen Rugs and Luxury Vinyl Tile samples. And, of course, the same excellent customer service, knowledge, and customer satisfaction that you've come to expect.
ANNOUNCING OUR SECOND LOCATION:
Clarksville Paint & Decorating, a Benjamin Moore Dealer
12447 Clarksville Pike, Suite 1A, Clarksville, MD