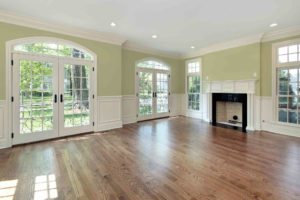 Shiplap is a trend in home design that isn't likely to fade any time soon. It's so popular that you might have noticed your neighbors integrating this wall style into their plans when they're organizing renovations and upgrades to their own houses. Alternatively, you might have been inspired by the home improvement shows you've binge-watched to pass the time while staying at home. In any case, we've got some tips to help you paint your shiplap more effectively!
Choosing the Right Type of Paint 
Before you can begin, you've got to decide what kind of paint you're using. This choice ultimately depends on the type of shiplap that is in play. Wooden materials call for a water-based paint-and-primer blend. Although that sounds expensive, it'll end up saving you quite a bit of time, money, and frustration. 
Picking the Proper Paint Sheen
Then you'll have to determine which paint sheen you need. As you do this, strive to strike a balance between aesthetics and functionality. Although flat sheen is beautiful, it is also tricky to clean. Meanwhile, you'll want to use semi-gloss sheens for kitchens and dining rooms. 
Painting Brand New Shiplap 
Installing some new shiplap isn't that hard. Unfortunately, there are a few steps you need to take before you can complete that phase. For instance, paint it before you add it to the walls. That way, you can coat the edges more easily. 
Sealing It Against Water Damage 
The concept of interior design looks to unify several different aspects of a residence. What do we mean? Take, for example, engineered hardwood. Engineered wood behaves differently than its natural counterpart.  This material is also known as medium density fiberboard or MDF. Seal it with an oil-based primer and then add a water-based paint finished with Urethane Enamel for maximum durability. Given the high humidity associated with summer weather, you'll be glad you did this when your walls start sweating along with you.  
Concealing Unsightly Holes and Gaps
Even if you aren't staging your home for potential buyers, you'll still want to make it as pleasing to the eye as you can. To that end, you've got to hide any holes or gaps on the walls. The shiplap can also have these issues, but at least that is easy enough to fix. Use spackle or caulk before you start your painting adventure, and there you go!
NEW LOCATIONS! VISIT US HERE AND EXPLORE!
We've moved from the Dobbin Road location to our new, roomy location just down the road:
Columbia Paint and Decorating, a Benjamin Moore Dealer: 6822 Oak Hall Lane, Suite C2, Columbia MD 21045
 443-319-4001
Expect the same one-stop shopping for all your decorating needs. We are a full-service Benjamin Moore dealer offering the best quality decorating products at the best prices around. We have ample paint and paint supplies, wallcoverings, custom window treatments, fabrics, and now, NEW flooring selections from Kaleen Rugs and Luxury Vinyl Tile samples. And, of course, the same excellent customer service, knowledge, and customer satisfaction that you've come to expect.
ANNOUNCING OUR SECOND LOCATION:
Clarksville Paint & Decorating, a Benjamin Moore Dealer
12447 Clarksville Pike, Suite 1A, Clarksville, MD