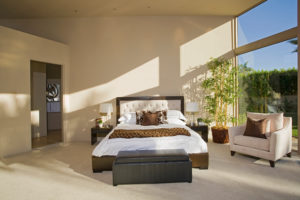 Spring and summertime mean plenty of plants are blooming and thriving. Want to add some liveliness to your abode? Then it's time to sit down and figure out what natural elements you'd like to bring into your home. Think about your favorite getaway destinations – the mountains, the lake, the beach, the forest? You can evoke the aesthetic of all of those dreamy places without needing to get out of town. Here are some snappy paint colors to pair up with your houseplants!
White: It's Simple, Clean, and Fresh 
While white walls are usually seen as boring or otherwise uninteresting, that doesn't have to be the case! When you're placing houseplants here, there, and everywhere, they're supposed to be the stars of the show! White, off-white, and light grey-shaded colors do wonders for a smaller room since it opens things up a little bit. 
Charcoal: A Smoky Accent Statement 
Charcoal paint colors have their rather own enjoyable effect: they emphasize the houseplants inside the room. Charcoal is best suited for those larger rooms that you want to make more intimate and cozy. That said, aim to balance that optical illusion with lights so that your space doesn't become too dark.  
Espresso Brown: Give Your Eyes a Caffeine Boost 
Coffee is a regular part of many people's morning routine. Whether you're swinging through the drive-through to get your java on the go or you want to sit back and contemplate the rain, adding some espresso brown colors to your home! They can elevate the aesthetics of the houseplants you choose to arrange. Earth tones are calming, and they're especially effective in areas that already contain natural elements: bamboo floors, stone hearths, marble countertops, and wooden cabinets!  
Seafoam: A Peaceful Backdrop with Intriguing Shadows 
Summertime is a great time to go to the beach. So if going "down the ocean" is your idea of a good time, then choose seafoam-associated paint colors. Using seafoam makes the room feel more alive and active without going overboard – hey, see what we did there?  
Navy Blue: Elegant, Regal, Bold, and Soothing
Navy blue can also be used to anchor any room with houseplants that you're cultivating. Although it may not seem like a logical combination at first, consider adding shades of blue to your conservatory, sunroom, or indoor greenhouse. If you've got a modern-style home, navy blue tones add a touch of classiness without being too overpowering. Just be careful – getting too heavy-handed with this palette could cause the room to "shrink" instead!
NEW LOCATIONS! VISIT US HERE AND EXPLORE!
We've moved from the Dobbin Road location to our new, roomy location just down the road:
Columbia Paint and Decorating, a Benjamin Moore Dealer: 6822 Oak Hall Lane, Suite C2, Columbia MD 21045
 443-319-4001
Expect the same one-stop shopping for all your decorating needs. We are a full-service Benjamin Moore dealer offering the best quality decorating products at the best prices around. We have ample paint and paint supplies, wallcoverings, custom window treatments, fabrics, and now, NEW flooring selections from Kaleen Rugs and Luxury Vinyl Tile samples. And, of course, the same excellent customer service, knowledge, and customer satisfaction that you've come to expect.
ANNOUNCING OUR SECOND LOCATION:
Clarksville Paint & Decorating, a Benjamin Moore Dealer
12447 Clarksville Pike, Suite 1A, Clarksville, MD