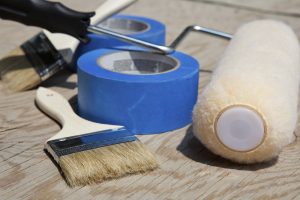 Painting the interior of your home is easy enough to do. Homeowners can do most everything when it comes to painting, but sometimes it's better to call on the professionals to come and do it for you. Here are some secrets you probably didn't know about before! 
Sand Off Flaws 
Before you can start painting, there is plenty of preparation to take care of first. Get all of the supplies that you need. Move furniture out of the way, especially if you don't want to leave stains behind. Unroll drop cloths and prepare any painter's tape you will probably need as well. 
Wash Off Paint Rollers
Your paint rollers are immensely important. Keeping them clean by rinsing off after use stops residue from building up that can mess up future painting projects. Liquid soap, believe it or not, makes more of a difference than you might think. 
Scrape Off Windows 
It's also time to scrape off your windows too. Make sure you have a razorblade handy, since the painter's tape might not be enough to cover up your windows and prevent paint splotches and stains. That way, interior painting will be much less messy! 
Double Coat 
You've probably heard the saying "measure twice, cut once" before. Well, the same principle applies to interior painting, at least in part. Apply double coats of the paint you want to use, no matter what color it is. That way, you can get any spots you've missed on the first pass. If you want that paint color to really pop, then the double coat is the way to go. 
Try Using Drop Cloths
Finally, be sure you use drop cloths wherever you are painting. It doesn't matter if it's the bathroom or in a nursery for a baby about to come home for the first time. Choose canvas instead of plastic, even though plastic is cheaper. The problem is that plastic simply isn't as absorbent as canvas is. 
NEW LOCATIONS! COME VISIT US AND EXPLORE!
We've moved from the Dobbin Road location to our new, roomy location just down the road:
Columbia Paint and Decorating, a Benjamin Moore Dealer
6822 Oak Hall Lane, Suite C2, Columbia MD 21045
443-319-4001
Expect the same one-stop shopping for all your decorating needs. We are a full-service Benjamin Moore dealer offering the best quality of decorating products at the best prices around. We have a large supply of paint and paint supplies, wallcoverings, custom window treatments, fabrics, and now NEW flooring selections from Kaleen Rugs and Luxury Vinyl Tile selections. And of course the same excellent customer service, knowledge and customer satisfaction that you've come to expect.
ANNOUNCING OUR SECOND LOCATION:
Clarksville Paint & Decorating, a Benjamin Moore Dealer
12447 Clarksville Pike, Suite 1A, Clarksville, MD