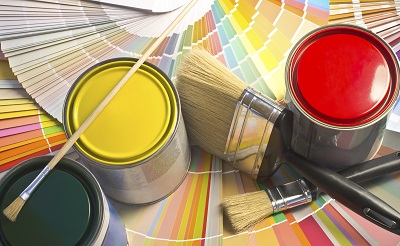 Want to paint something? Well, your home is a canvas! Many homeowners hoping for a breath of fresh air will want to get outside and paint the exterior of their house, but that doesn't mean you should shy away from painting the inside! 
Get High-Quality Equipment
First things first, make sure that you get high quality interior painting equipment. Although this sounds like a given, you'd be surprised how often people don't follow sound advice. When starting out on a project like this, it isn't the time to skimp. Cheaper paint rollers leave unsightly bubbles behind, so make sure that doesn't happen by getting the best equipment that you can afford. 
Keep a Cloth Damp 
Keeping a damp cloth nearby also makes sense. Think of the cloth as the eraser on the back of a pencil. It can help you undo mistakes that you don't notice that you've made until it's almost too late. You don't need to use a new microfiber cloth for this either – a rag made from an old T-shirt should suffice. 
Be Sure to Use Paint Liners
You'll also want to use some paint liners. Doing this helps your paint trays last longer and stay clean no matter how much paint you use. Once you're done, you can remove the liners and discard them, saving yourself plenty of frustration in the process. 
Use Drip Pans
You might be wondering how drip pans help. Keeping a drip pan underneath the open cans of paint is a wise decision, because invariably, the paint will begin to drip as you coat a wall or windowsill. Use cardboard, towels, or old newspaper in a pinch. Although using a drop cloth might seem like common sense in this situation, it's not as effective as you might think. By using something disposable, you can simply throw it away when you are done with it. This makes cleanup so much easier! 
NEW LOCATIONS! COME VISIT US AND EXPLORE!
We've moved from the Dobbin Road location to our new, roomy location just down the road:
Columbia Paint and Decorating, a Benjamin Moore Dealer
6822 Oak Hall Lane, Suite C2, Columbia MD 21045
443-319-4001
Expect the same one-stop shopping for all your decorating needs. We are a full-service Benjamin Moore dealer offering the best quality of decorating products at the best prices around. We have a large supply of paint and paint supplies, wallcoverings, custom window treatments, fabrics, and now NEW flooring selections from Kaleen Rugs and Luxury Vinyl Tile selections. And of course the same excellent customer service, knowledge and customer satisfaction that you've come to expect.
ANNOUNCING OUR SECOND LOCATION:
Clarksville Paint & Decorating, a Benjamin Moore Dealer
12447 Clarksville Pike, Suite 1A, Clarksville, MD