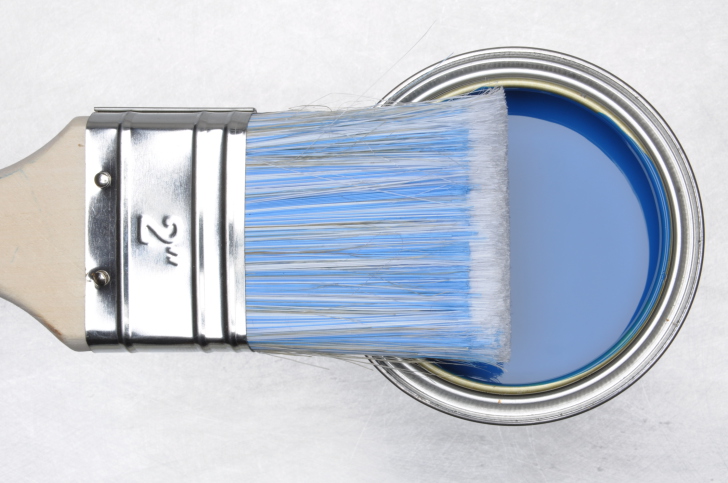 Give yourself a pat on the back! That latest painting project was certainly an exhausting one. But in the end, we sincerely hope it was worth all of that effort. Storing unused paint, though, can be a challenge. Fortunately, we've compiled a list of tips and tricks for keeping your paint fresh and ready for its next use. You know what that means: no more wasted materials!
Make Sure the Container is Tightly Sealed 
First things first, seal the container as tightly as you can. A broken seal lets too much air in. Plus, you could drip or slosh still-wet paint everywhere. Spare yourself the gigantic mess by using a snug and secure lid. If you've only skimmed some paint off the top, there's no sense in scooping it all into another container just to prevent oxygenation. Reattach the lid that came on the can in the first place! Scrape off any dried paint that might have splashed over the rim. Use plastic wrap to cover the opening and a small rubber mallet to put it back in place.
Use Another Vessel for the Unused Paint 
On the other hand, you might need to move the unused paint into a new jar anyway. This technique works better when there isn't much paint left, but the original can takes up too much space on a shelf. Some clean glass jars can solve this problem. That's because there is less room for air to get into them. Plus, you'll also be saving space, and you can tell by looking at it which color the paint is, so you aren't unpleasantly surprised by it later.  
Put Labels on Your Chosen Containers 
We do still advise you to make easy-to-read labels for your new paint containers. Leftover paint tends to fade, and you shouldn't mix paints from different brands (well, you could, but it could lead to underwhelming results if you do!) Write down the brand name, the color (name and number, that is), what sheen or finish it has, and when you first opened the paint. You're likely going to need a bigger label than you think because it's a good idea to scribble down the room where you used the paint and the surfaces you painted to boot.    
NEW LOCATIONS! VISIT US HERE AND EXPLORE!
We've moved from the Dobbin Road location to our new, roomy location just down the road:
Columbia Paint and Decorating, a Benjamin Moore Dealer: 6822 Oak Hall Lane, Suite C2, Columbia MD 21045 phone number: 443-319-4001
Expect the same one-stop shopping for all your decorating needs. We are a full-service Benjamin Moore dealer offering the best quality decorating products at the best prices around. We have ample paint and paint supplies, wallcoverings, custom window treatments, fabrics, and now, NEW flooring selections from Kaleen Rugs and Luxury Vinyl Tile samples. And, of course, the same excellent customer service, knowledge, and customer satisfaction that you've come to expect.
ANNOUNCING OUR SECOND LOCATION:
Clarksville Paint & Decorating, a Benjamin Moore Dealer
12447 Clarksville Pike, Suite 1A, Clarksville, MD