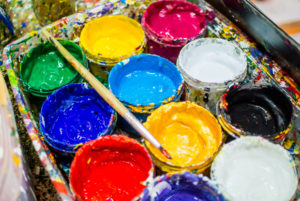 Great job on painting your home! Whether you tackle the inside or the outside of your house, we know how time-consuming such projects can be. That's why once you're finished, you might decide to hang onto the empty or half-used paint. After all, you might need it again someday. Life is unpredictable – sometimes repainting a bathroom or bedroom is a fun way to pass the time – or maybe you have a new addition to your family? Changes will come, but we can help you figure out how to get rid of old paint that no longer serves a purpose!
Letting Go of Old Latex Paint
Throwing out the paint you don't want (or can't use anymore) is a multiple-step process. It's not as simple as it sounds; irresponsible disposal can pose a hazard to your neighborhood and the environment. Besides, latex paint and oil-based paint are different substances. Combine latex paint with cat litter. Yes, we know how strange that sounds. Give this bizarre new mixture time to dry out and set. Then throw it in the garbage. Before you do this, allow the unusual blend to thicken up first – that way, you won't run the risk of disgusting sloshes and spills. 
Make sure you remove the lid before you throw it in the dumpster. If there isn't much paint left in the can, let the paint air dry. This trick saves plenty of time and effort – as long as you keep it out of reach from curious pets or mischievous children! Commercial paint hardeners can also help reduce the wait time for this.
Eliminating Expired Oil-Based Paints
Unlike its latex counterpart, oil-based paint is classified as hazardous waste. That means you have to be even more careful about disposal methods. Instead of handling it yourself, drop the unwanted cans at a specialized disposal center. Ask the local authorities where you can go and when the drop-off hours are. 
Paint recycling is another fantastic way to give old paint a new purpose.  Try donating the paint instead of simply throwing it away. Community centers, charitable organizations, theaters, religious institutions, and even Habitat for Humanity will appreciate having the extra painting supplies around.
NEW LOCATIONS! VISIT US AND EXPLORE!
We've moved from the Dobbin Road location to our new, roomy location just down the road:
Columbia Paint and Decorating, a Benjamin Moore Dealer
6822 Oak Hall Lane, Suite C2, Columbia MD 21045
443-319-4001
Expect the same one-stop shopping for all your decorating needs. We are a full-service Benjamin Moore dealer offering the best quality decorating products at the best prices around. We have an ample supply of paint and paint supplies, wallcoverings, custom window treatments, fabrics, and now NEW flooring selections from Kaleen Rugs and Luxury Vinyl Tile samples. And, of course, the same excellent customer service, knowledge, and customer satisfaction that you've come to expect.
ANNOUNCING OUR SECOND LOCATION:
Clarksville Paint & Decorating, a Benjamin Moore Dealer
12447 Clarksville Pike, Suite 1A, Clarksville, MD