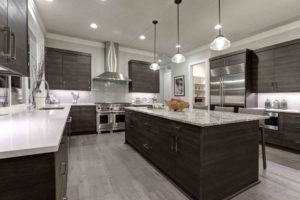 Updating the paint colors on your walls is one of the easiest and fastest ways to completely transform a room. Picking the perfect color (or combination of colors) is often the hardest part. There are so many different colors and shades to choose from to strike the right balance for your space. Then, once you have the color picked out, you still need to choose the sheen or glossiness. Here's what you should know about this concept so you can choose the right one for your painting project.
Different Types Of Sheen
The different sheens that are available range from very flat to very glossy. The least lustrous sheen available is the matte finish, sometimes called flat finish, which has less than 2% gloss and creates a very soft, diffused look. Next is the low-sheen (3-19% gloss), followed by the satin (20-30% gloss) finish. Both of these offer a little more shine than matte finishes, but they don't have enough to feel super reflective. Next, semi-gloss has a gloss level of 30-45%, followed by gloss sheens at more than 45% gloss. Both of these are definitely reflective, offering a smooth, shiny finish.
Choosing Based On Looks
The bottom line is that you want your walls to look nice, obviously, and the sheen will play a part in that. If you are choosing very bright or bold colors, a high-gloss sheen could look gaudy. Similarly, beige or tan colors sometimes look even plainer when they have a matte sheen. Additionally, the glossier the polish, the more it will highlight any texture on the wall. If the texture is purposeful, that could be a good thing; if it is due to imperfections, you should opt for a matte sheen instead. All in all, suppose the room has intensely bright lights or receives a lot of direct sunlight. In that case, the shininess of a gloss finish could become distracting.
Choosing Based On Use
Glossier sheens are easier to clean and more resilient to mold and mildew growth. This is why gloss or at least semi-gloss paints are usually the suggested sheen for kitchens and bathrooms. If you want to use a matte sheen, make sure that the space is not prone to moisture or well-ventilated enough that the moisture-buildup won't cause an issue.
NEW LOCATIONS! VISIT US AND EXPLORE!
We've moved from the Dobbin Road location to our new, roomy location just down the road:
Columbia Paint and Decorating, a Benjamin Moore Dealer
6822 Oak Hall Lane, Suite C2, Columbia MD 21045
443-319-4001
Expect the same one-stop shopping for all your decorating needs. We are a full-service Benjamin Moore dealer offering the best quality decorating products at the best prices around. We have an ample supply of paint and paint supplies, wallcoverings, custom window treatments, fabrics, and now NEW flooring selections from Kaleen Rugs and Luxury Vinyl Tile samples. And, of course, the same excellent customer service, knowledge, and customer satisfaction that you've come to expect.
ANNOUNCING OUR SECOND LOCATION:
Clarksville Paint & Decorating, a Benjamin Moore Dealer
12447 Clarksville Pike, Suite 1A, Clarksville, MD