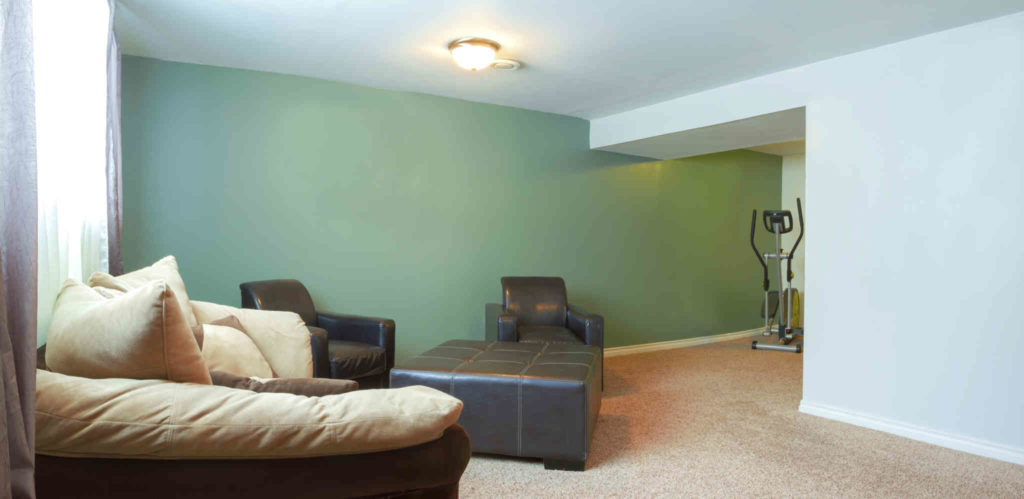 Getting your basement finished is bound to be one of your proudest moments as a homeowner. You've got more living space to make use of, plus it can be spacious enough to give you more storage without an attic. One way to make sure that your finished basement looks amazing, though, is to ensure that it has a fresh coat of paint.
Use Some Saturated Colors First 
Saturated colors can be a great way to rejuvenate your basement. It can really show off vibrant shades and textures that will pop off the surfaces. Feel free to use these colors on all of the walls – or maybe one accent wall! This accent wall will serve as a focal point anchoring the room (or rooms, depending on the floor plan.) 
Let There Be More Light 
Even when you have windows or an exterior door built into your basement framework, chances are good that it doesn't get nearly enough natural light. Painting the basement allows you to fix that situation, however. Floor and table lamps are quick and easy ways to cast more light without breaking the bank. They also infuse the space with more color, especially if you utilize voice-enabled smart bulbs that will change color on command. Recessed lighting, overhead lamps, and track lighting are also affordable ways to illuminate your basement without too much hassle.
Stylize the Basement Ceiling 
Since walls and floors tend to get most of the attention, it's easy to ignore the ceiling. As important as they are, ceilings typically don't receive as much attention, respect, and praise as they are due. So, spend some time jazzing up the ceiling, even if you don't go so far as commissioning a tiled mosaic or world-class painting. Try colors like black or white; alternatively, you could also leave the ceiling exposed. What do we mean by that? It means that the beams and ducts are visible instead of being hidden by drywall. By doing this, you'll help transform your hideout into an elegant loft!  
Apply Paint to Exposed Brick 
Exposed brick walls can be a classy aesthetic choice. Suppose that it's an effect you've always wanted since you first discovered it on a popular blogging website populated by like-minded people! This trick is easier to do than you expect. Dirty masonry, such as soot-blackened fireplaces, doesn't need to look so charred anymore. White and grey are two sophisticated color choices that modernize your finished basement and give it a spark of charm that may not have been there before!
NEW LOCATIONS! VISIT US AND EXPLORE!
We've moved from the Dobbin Road location to our new, roomy location just down the road:
Columbia Paint and Decorating, a Benjamin Moore Dealer
6822 Oak Hall Lane, Suite C2, Columbia MD 21045
443-319-4001
Expect the same one-stop shopping for all your decorating needs. We are a full-service Benjamin Moore dealer offering the best quality decorating products at the best prices around. We have an ample supply of paint and paint supplies, wallcoverings, custom window treatments, fabrics, and now NEW flooring selections from Kaleen Rugs and Luxury Vinyl Tile samples. And, of course, the same excellent customer service, knowledge, and customer satisfaction that you've come to expect.
ANNOUNCING OUR SECOND LOCATION:
Clarksville Paint & Decorating, a Benjamin Moore Dealer
12447 Clarksville Pike, Suite 1A, Clarksville, MD