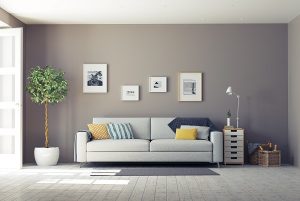 Zoom envy is all too real. In fact, video call jealousy regarding colleague's backgrounds is something all people working from home can understand. That said, you could be the envy of the videocall. Liven up your video meeting with a fresh coat of paint. Creating the perfect background in your home for all your video calls is easier than you think. Here are some presentable paint colors that will bring some freshness and perfect lighting for your next video conference call or meeting.
A Deep, Rich Navy Blue
A nice, dark navy is an excellent paint choice. In fact, regardless of the room, the navy works wonders. When it comes to a neutral, there is nothing better than a rich, deep navy blue. It'll not only help you stay focused on your work but it provides a mix of relaxing essence with blue while also allowing your room to look professional in any video call you may have. 
A Lovely Seaspray
Another incredible paint color choice to make when considering the background of your video meeting would be a magnificent seaspray. In fact, this light blue hue is perfect when complimenting any silver and white accents you have in the space. A color like seaspray — a wonderful turquoise — has a tendency to look excellent with virtually any skin tone — giving you that natural glow you've always wanted on a video call. 
Simple Flagstone
Another excellent neutral choice flagstone —similar to slate — is a wonderful paint choice option when looking for the perfect video call background wall. One of the best things you can easily do when it comes to livening up your wall — particularly when it will be constantly shown in a video call — is to give the room a timeless and elegant look. In fact, flagstone has the unique ability to transform a room and make it significantly more classic and timeless than before. 
NEW LOCATIONS! COME VISIT US AND EXPLORE!
We've moved from the Dobbin Road location to our new, roomy location just down the road:
Columbia Paint and Decorating, a Benjamin Moore Dealer
6822 Oak Hall Lane, Suite C2, Columbia MD 21045
443-319-4001
Expect the same one-stop shopping for all your decorating needs. We are a full-service Benjamin Moore dealer offering the best quality of decorating products at the best prices around. We have a large supply of paint and paint supplies, wallcoverings, custom window treatments, fabrics, and now NEW flooring selections from Kaleen Rugs and Luxury Vinyl Tile selections. And of course the same excellent customer service, knowledge, and customer satisfaction that you've come to expect.
ANNOUNCING OUR SECOND LOCATION:
Clarksville Paint & Decorating, a Benjamin Moore Dealer
12447 Clarksville Pike, Suite 1A, Clarksville, MD