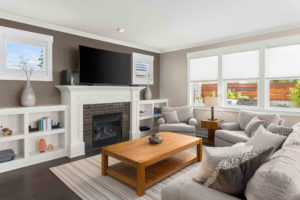 Make your house a home! Besides painting the interior walls and emphasizing exterior curb appeal, there are many other tasks you've got on your plate. The furniture and decor you use to give your humble abode some personality matters more than you might think. Interior designers and decorators have plenty of experience in this regard. That's why trusting them to guide you through this complex process can save you loads of frustration and hours of wasted effort. In the meantime, here are some tips for you to follow! 
Be Cautious About Splurging 
First off, budget carefully. Then, be cautious about splurging. It's tempting to spend all of your money on a handful of high-priced, flashy pieces of furniture. Save your spending-power for couches and beds. That's because they are "visually-heavy" and are most likely to attract the eye. Once you've acquired the ones you like the most, you can move on and accentuate the other elements of each room. 
Level Out the Lighting Configurations
Pay attention to how much light there is. Forgetting about this aspect of interior design can be disastrous. Windows provide natural light, but UV rays from the sun can bleach out your furniture sets and dull their vibrant colors. Floor lamps, overhead lights, and accent lights will also imbue the room with a different character than you might expect. Proceed with caution. 
Accessorize with Some Aplomb 
Making the most of what you already have will curb the urge to do some whirlwind shopping. Sofas, Oriental rugs, elegant dressers, and coffee tables are the biggest components of many living rooms. They can be integrated into other parts of the home, such as the den, but that isn't done very often. Bowls, books, glassware, heirlooms, and collectibles also serve as fun ways to fill out your shelves.
Remember That Space Isn't Just for Astronauts 
Giving your belongings room to breathe isn't just good advice for loading the dishwasher. Everything needs to be put in its rightful place, of course. Sometimes, moving all of the heavier furniture against the walls turns out to be counterproductive. This technique produces unappealing results such as an atmosphere of stuffiness rather than coziness. As such, be sure to reposition all of the furnishings so that there is sufficient room between them, the walls, the wall art, and the window treatments! 
NEW LOCATIONS! VISIT US AND EXPLORE!
We've moved from the Dobbin Road location to our new, roomy location just down the road:
Columbia Paint and Decorating, a Benjamin Moore Dealer
6822 Oak Hall Lane, Suite C2, Columbia MD 21045
443-319-4001
Expect the same one-stop shopping for all your decorating needs. We are a full-service Benjamin Moore dealer offering the best quality decorating products at the best prices around. We have an ample supply of paint and paint supplies, wallcoverings, custom window treatments, fabrics, and now NEW flooring selections from Kaleen Rugs and Luxury Vinyl Tile samples. And, of course, the same excellent customer service, knowledge, and customer satisfaction that you've come to expect.
ANNOUNCING OUR SECOND LOCATION:
Clarksville Paint & Decorating, a Benjamin Moore Dealer
12447 Clarksville Pike, Suite 1A, Clarksville, MD