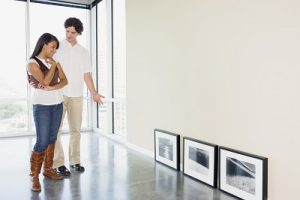 When you are undertaking a major renovation project, especially involving painting, it will require a great deal of planning. And if you are looking to accomplish a professional finish with your next painting project, you have to give it the time and consideration it merits. Here are a couple of pro tips for creating a professional-quality paint job.
Know Your Tools
It's essential to have all the right tools when you want to paint your room like a professional. First, the right quality brushes and roller covers will give you proper coverage the first time without re-application. Make sure to invest in high-quality drop cloths to keep paint from dripping onto your floor or baseboards. When choosing paint roller covers, nap is a term referring to the thickness of the material. A thicker nap works best for textured walls, and you should choose a thinner nap for smooth walls. Painters tape seems like a natural choice, but you have to be careful of it. Sometimes, the paint will bleed behind it, and the tape can peel off the paint that it's stuck to. 
Proper Prep
In addition to choosing the right tools, a professional paint job requires putting the room in order beforehand. First, try to select a day with good weather to start painting. Rainy and humid days make the paint dry more slowly, and increase the risk of uneven coating and drips. Next, you should always clear out the room of everything. At the very least, for pieces of furniture that are too heavy, try to move them as much out of the ways as you can and cover them with plastic. Don't forget to take off any hardware, light fixtures, and even doors if you can. You can always label them to make it easier to put it back where it belongs. Another way to get your room ready is to put your painting surface in good condition. This can include filling in cracks with light spackle, or acrylic for the baseboards and trim, as well as sanding. Whatever you do, you should always clean off your walls by dusting them and wiping them with a damp sponge. Nothing looks more unprofessional than the grainy texture that comes from painting over a dirty wall.
Steps to Painting
The last bit of preparation before you're finally ready to paint is to have a talk with the salesperson at your hardware store. They can tell you whether your type of walls need a separate coat of primer first as well as a rough estimate of the amount of paint you'll need. If you decided not to use painter's tape, go ahead and cut in all your edges with an angle brush. Then you can apply the roller in even passes using light to medium pressure. If the room is tall, invest in an extension pole to make it easier to reach. There might be some stray splatters as you paint, so make sure you go back and correct those areas while the paint is still wet. Once it's dry, avoid going over it again, because that can make it streak. The last pro tip, if your paint project takes place over several days, wrap up your equipment in plastic and put your rollers and paintbrushes in the freezer, so you don't have to clean them between use.
NEW LOCATIONS! COME VISIT US AND EXPLORE!
We've moved from the Dobbin Road location to our new, roomy location just down the road:
Columbia Paint and Decorating, a Benjamin Moore Dealer
6822 Oak Hall Lane, Suite C2, Columbia MD 21045
443-319-4001
Expect the same one-stop shopping for all your decorating needs. We are a full-service Benjamin Moore dealer offering the best quality of decorating products at the best prices around. We have a large supply of paint and paint supplies, wallcoverings, custom window treatments, fabrics, and now NEW flooring selections from Kaleen Rugs and Luxury Vinyl Tile selections. And of course the same excellent customer service, knowledge and customer satisfaction that you've come to expect.
ANNOUNCING OUR SECOND LOCATION:
Clarksville Paint & Decorating, a Benjamin Moore Dealer
12447 Clarksville Pike, Suite 1A, Clarksville, MD