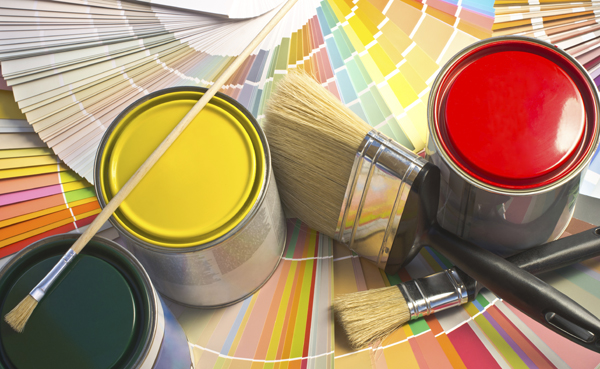 It's the question most people don't know the answer to — how long does paint actually last? Having mixed paint around the house is always a great thing to have on hand. From walls and trim to ceilings and cabinet doors, a little spruce of paint can make a huge difference in the overall aesthetic of your home. But how long can those paint cans actually last? 
The Estimated Lifespan Of Your Paint
When looking at the longevity of paint, it's important to explore the storage condition of said paint. Latex paint that is kept in pristine condition could potentially last up to a decade. However, the same type of paint stored in a poorly sealed and opened container may only last a few months before going bad. Having any liquid on the top or sides of doesn't necessarily mean the paint has gone bad. However, stirring the paint to see it's consistency can help you determine whether the cans you have are good or bad. 
Oil-Based Paints
For the most part, oil-based paints are similar to those of latex paints. However, due to the increased amount of solvents in oil-based compared to latex paints, the lifespan of oil-based tends to lean towards having a bit of a longer lifespan. As a result, oil-based paints that are properly sealed and stored can potentially last for up to 15 years. 
Top Signs Your Paint Has Gone Bad
There are a few distinguishable signs that your paints have gone bad. First, if you have a rancid or sour smell, then it has most likely gone bad or been improperly stored decreasing its lifespan overall. After being open, some paints might have a very rancid smell which could easily indicate that it has gone bad. That's because bacterial growth is the reason the paint is smelly and rancid. Secondly, paint that is repeatedly frozen and then thawed and then frozen again could easily go bad. It's not wise to store paint in an area — like outdoors — where it can go through a variety of different temperatures repeatedly. Lastly, overly lumpy paints is also a tell-tale sign that your paint has gone sour. If the paint has totally solidified — more than just a thin film on top — it has likely gone bad. 
NEW LOCATIONS! COME VISIT US AND EXPLORE!
We've moved from the Dobbin Road location to our new, roomy location just down the road:
Columbia Paint and Decorating, a Benjamin Moore Dealer
6822 Oak Hall Lane, Suite C2, Columbia MD 21045
443-319-4001
Expect the same one-stop shopping for all your decorating needs. We are a full-service Benjamin Moore dealer offering the best quality of decorating products at the best prices around. We have a large supply of paint and paint supplies, wallcoverings, custom window treatments, fabrics, and now NEW flooring selections from Kaleen Rugs and Luxury Vinyl Tile selections. And of course the same excellent customer service, knowledge and customer satisfaction that you've come to expect.
ANNOUNCING OUR SECOND LOCATION:
Clarksville Paint & Decorating, a Benjamin Moore Dealer
12447 Clarksville Pike, Suite 1A, Clarksville, MD