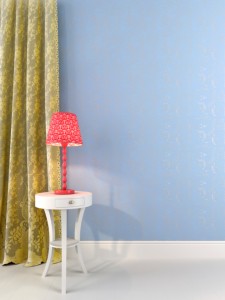 The Pantone Color of the Year for 2020 is Classic Blue. So how can you incorporate that into your home? Good question – we are here to answer that for you. As Pantone says, classic blue is elegant in its simplicity. It looks like the sky at dusk and is comforting and reassuring, two valuable attributes in times like these. 
Paint the Walls 
One of the simplest ways to change up the color of your home is to repaint your walls. As such, why not do that this spring, and bring in some new style into your home accordingly? You don't have to paint every wall, either. A blue wall makes sense in the kitchen and in the bathroom, but it's also great for spaces within your house where you can unwind, like the bedroom. 
Paint the Kitchen Cabinets 
A second simple suggestion is to paint the kitchen cabinets. You could also experiment by painting or recoloring the kitchen counters, too. Remodeling your kitchen goes beyond infusing some new character, though. Here's where you can get creative and buy new cabinets or counters – or both – and take your kitchen up a notch, especially when you get the right hardware to go with it. 
Get Complementary Hardware 
Hardware and fixtures like doorknobs, cabinet pulls, sink faucets, and toilets can all enhance your efforts to put more color into your home. The hardware should match even if they themselves aren't blue. After all, you'll want to avoid creating an effect that is too overwhelming on the eye!
Consider Upholstery and Accessories
Take a few minutes to think about the color of upholstery and accessories in your home. They can be blue, too! The living room can be a canvas for you, especially if the furniture is in need of a pick-me-up. Other decorative touches, such as vases, candles, and bookshelves can all be blue as well! 
NEW LOCATIONS! COME VISIT US AND EXPLORE!
We've moved from the Dobbin Road location to our new, roomy location just down the road:
Columbia Paint and Decorating, a Benjamin Moore Dealer
6822 Oak Hall Lane, Suite C2, Columbia MD 21045
443-319-4001
Expect the same one-stop shopping for all your decorating needs. We are a full-service Benjamin Moore dealer offering the best quality of decorating products at the best prices around. We have a large supply of paint and paint supplies, wallcoverings, custom window treatments, fabrics, and now NEW flooring selections from Kaleen Rugs and Luxury Vinyl Tile selections. And of course the same excellent customer service, knowledge and customer satisfaction that you've come to expect.
ANNOUNCING OUR SECOND LOCATION:
Clarksville Paint & Decorating, a Benjamin Moore Dealer
12447 Clarksville Pike, Suite 1A, Clarksville, MD