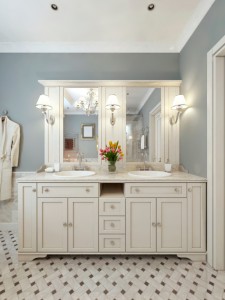 It is possible to paint different surfaces in your bathroom. One of the most common changes that many homeowners decide to do is to repaint the tile in their bathroom. Find out more about what this means! 
Less Expensive than Retiling 
It's easy to assume that you need to retile your bathroom in order to give it a fresh style. That assumption isn't always the right choice to make, though. That's because painting your bathroom is a less expensive venture. Plus, it's not as time-consuming. If your tile is still intact, then repainting it is a great way to save money, depending on the size and dimensions of the bathroom you're working on – a master is much bigger than a powder room, which in turn, doesn't need as much floor space as a full bathroom down in the basement.  
Enables Many Different Aesthetics 
Another great reason to add paint to your bathroom is that it enables you to experiment with many different aesthetics. You can't always accomplish this with wallpaper, picture frames, or other decorative touches. 
Find the Right Paint 
That said, you've got to make sure you find the right paint for the outcome that you want. Ceramic, porcelain, and unglazed quarry tile will all need different paints than natural stone will, so be careful when it comes time to choose the paint you wish to use! 
Surprisingly Low-Maintenance
Many homeowners think that repainting their bathroom calls for plenty of upkeep. The truth is, this isn't the case. Sweeping, vacuuming, and mopping is all you need to do, which, chances are, aren't too far out of the ordinary anyway. Use some tile cleaner to restore the color and keep dirt away before it can ruin the new look of your bathroom. Putting down mats or floor pads can also help make a difference in the fight against abrasions and other scuff marks. 
NEW LOCATIONS! COME VISIT US AND EXPLORE!
We've moved from the Dobbin Road location to our new, roomy location just down the road:
Columbia Paint and Decorating, a Benjamin Moore Dealer
6822 Oak Hall Lane, Suite C2, Columbia MD 21045
443-319-4001
Expect the same one-stop shopping for all your decorating needs. We are a full-service Benjamin Moore dealer offering the best quality of decorating products at the best prices around. We have a large supply of paint and paint supplies, wallcoverings, custom window treatments, fabrics and now NEW flooring selections from Kaleen Rugs and Luxury Vinyl Tile selections. And of course the same excellent customer service, knowledge and customer satisfaction that you've come to expect.
ANNOUNCING OUR SECOND LOCATION:
Clarksville Paint & Decorating, a Benjamin Moore Dealer
12447 Clarksville Pike, Suite 1A, Clarksville, MD