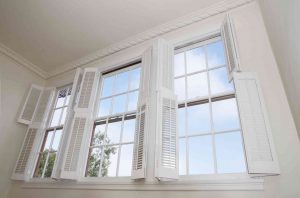 Sometimes homeowners with vinyl windows wonder: can you paint those vinyl windows? Some experts argue whether or not it's cost-effective to paint those frames or not, but the fact is, many homeowners do have painted vinyl windows. Some issues can come with this decision, though, so before you choose to paint your vinyl windows, you may want to prepare yourself with all the knowledge needed. If you're considering painting your windows, read on below to find out more information.
Common Problems You May Experience
While vinyl windows can be painted, that doesn't necessarily mean you should do it. Most home contractors are willing to do the job, but some window manufacturers advise against it. This is because paint doesn't adhere to vinyl very well; in the end, your color may end up flaking if you don't take proper care of it. 
You also need to think about the color you pick. Darker colors are going to attract solar heat, which adds more heat stress on your window frames—potentially causing warping. Some manufacturers will only accept specific colors of vinyl paint as well, so it truly depends on what your warranty looks like and what the manufacturers allow.
Some risks come with painting your frames. That said, we live in an age where it's so easy to find DIY inspiration and get jobs like this done. The alternative is to replace your windows outright, which isn't something most of us want to do. 
How Windows Are Painted
Before any painting gets done, you're going to want to clean your vinyl and remove any dirt that may be present. Sanding can also be done to help the paint actually bond to the surface. Then, tape off the areas you don't want painted to protect them and use a drop cloth beneath the window to protect the ground. Then primer can be applied, which softens the vinyl and readies the surface for paint. Let the primer dry for a long enough time, and you can use a thin coat of paint, although you're going to want to do several layers until you have enough built up.
NEW LOCATIONS! COME VISIT US AND EXPLORE!
We've moved from the Dobbin Road location to our new, roomy location just down the road:
Columbia Paint and Decorating, a Benjamin Moore Dealer
6822 Oak Hall Lane, Suite C2, Columbia MD 21045
443-319-4001
Expect the same one-stop shopping for all your decorating needs. We are a full-service Benjamin Moore dealer offering the best quality of decorating products at the best prices around. We have a large supply of paint and paint supplies, wallcoverings, custom window treatments, fabrics, and now NEW flooring selections from Kaleen Rugs and Luxury Vinyl Tile selections. And of course the same excellent customer service, knowledge and customer satisfaction that you've come to expect.
ANNOUNCING OUR SECOND LOCATION:
Clarksville Paint & Decorating, a Benjamin Moore Dealer
12447 Clarksville Pike, Suite 1A, Clarksville, MD
443-552-1111