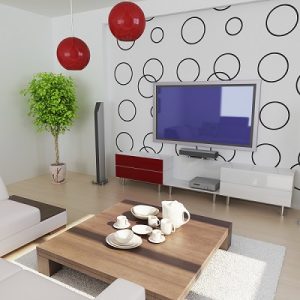 When it comes to your home, having wall coverings can help enhance and improve your interior design. However, knowing what specific wall coverings to use can be overwhelming and challenging. Below are some helpful tips to help you make the most of your wallcoverings.
Implement Stone Textures
It is a great idea to make your home appear and feel cozy and inviting by adding some stone textures throughout your interior design. Natural stone may provide a bit of texture to any room in your modest dwelling, sprucing it up and giving it a new lease on life. Stone wallpaper is a practical and affordable method to add natural stone to your home. This may be a fantastic approach to achieving your desired style without going overboard with your spending.
Enhance Your Lighting With Medallions
Lighting medallions are another excellent addition that homeowners should make to their houses. Many who choose not to wallpaper their walls might embrace lighting medallions. By decorating your ceiling with these creative fittings, you will undoubtedly positively impact your room's ambiance. 
Add Wall Tiles
Adding some wall tiles to your walls can transform their appearance. Most people believe tile should only be used as a backsplash in the kitchen or for the floor. But tiles have a lot of different uses. You can therefore use tiles on your walls. This is a creative and enjoyable method to update your house and breathe new life into the area.
NEW LOCATIONS! VISIT US HERE AND EXPLORE!
We've moved from the Dobbin Road location to our new, roomy location just down the road:
Columbia Paint and Decorating, a Benjamin Moore Dealer: 6822 Oak Hall Lane, Suite C2, Columbia MD 21045 phone number: 443-319-4001
Expect the same one-stop shopping for all your decorating needs. We are a full-service Benjamin Moore dealer offering the best quality decorating products at the best prices. We have ample paint and paint supplies, wallcoverings, custom window treatments, fabrics, and new flooring selections from Kaleen Rugs and Luxury Vinyl Tile samples. And, of course, the same excellent customer service, knowledge, and customer satisfaction you've expected.
ANNOUNCING OUR SECOND LOCATION:
Clarksville Paint & Decorating, a Benjamin Moore Dealer
12447 Clarksville Pike, Suite 1A, Clarksville, MD