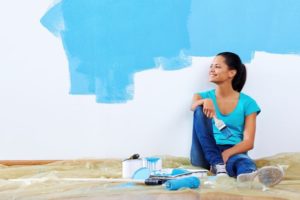 One way to ensure that your finished basement looks terrific is to ensure that it has a fresh coat of paint. If you plan to use the area, consider adding a fresh coat of paint to your space. Use these helpful ideas and tips when painting your finished basement. 
Utilize Saturated Colors
Your basement can be revitalized by using saturated colors. It may display vivid hues and textures that stand out from the surfaces. Apply these hues on every wall or one accent wall. Depending on the floor layout, this accent wall will act as a focal point and anchor for the room.
Enhance Your Lighting 
Even if your basement structure includes windows or an exterior entrance, chances are strong that it needs to receive more natural light. However, you can correct such a problem by painting the basement. Floor and table lamps are simple and affordable solutions to add more light without spending a fortune. Recessed ceiling and track lighting are the easiest and most cheap ways to light up your basement.
Add Style To Your Ceiling 
It is simple to overlook the ceiling because walls and floors typically receive the majority of focus. Although crucial, ceilings frequently need the appreciation and care they deserve. Spend some time jazzing up the ceiling, even if you decide not to use fine artwork or a tiled mosaic. Try black or white; alternatively, you might leave the ceiling exposed. How do we interpret that? It implies that the ducts and beams are not covered by drywall but are somewhat visible.
Paint Exposed Bricks
Walls with exposed brick can be a sophisticated aesthetic choice. It's simpler than you think to pull off this trick. It's unnecessary for dirty brickwork, such as soot-blackened fires, to appear so burned. The modern colors of white and grey will update your completed basement and provide a charm that may not have previously been present.
NEW LOCATIONS! VISIT US HERE AND EXPLORE!
We've moved from the Dobbin Road location to our new, roomy location just down the road:
Columbia Paint and Decorating, a Benjamin Moore Dealer: 6822 Oak Hall Lane, Suite C2, Columbia MD 21045 phone number: 443-319-4001
Expect the same one-stop shopping for all your decorating needs. We are a full-service Benjamin Moore dealer offering the best quality decorating products at the best prices. We have ample paint and paint supplies, wallcoverings, custom window treatments, fabrics, and new flooring selections from Kaleen Rugs and Luxury Vinyl Tile samples. And, of course, the same excellent customer service, knowledge, and customer satisfaction you've expected.
ANNOUNCING OUR SECOND LOCATION:
Clarksville Paint & Decorating, a Benjamin Moore Dealer
12447 Clarksville Pike, Suite 1A, Clarksville, MD