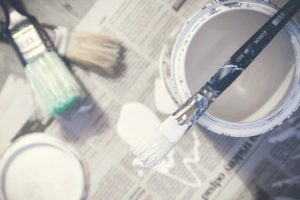 Painting the various rooms within your home doesn't need to be difficult. In fact, it's surprisingly easy to overthink each aspect of the process. This tendency then leads to second-guessing your decisions. What does that mean for you? It's a setback that turns a weekend project into a slog that could take several weeks instead. Narrowing down your choices is equally tricky. If you've got your eye on similar paint colors, you've got to choose the right one. 
Do You Like Warmer Paint Colors Or Cooler Ones? 
The first step is to reconsider the other paint colors you have in your house. That's why the question we posed above is so important to answer. Even though it doesn't seem likely, both grey and white have warmer hues along with cooler ones. Compare the sample you want to use against a plain piece of paper. This test could indicate if you don't have a full black or full white shade. 
Assemble a Batch of Different Samples
It's also a good idea to put together a portfolio of samples. That way, selecting the most suitable paint color becomes less complicated. We know how that sounds – counterintuitive at best. The fabrics in the room matter, too. Use some tape to stick samples on the walls, floors, and furniture. Then run another experiment to compare the colors based on the time of day and the weather conditions outside.
Set Aside The Ones You Like Best 
Once you've done that, you can separate your favorite colors from the rest. Do some test painting for a fuller perspective and see how well it ties the room together. For this to work, you will need several clean paintbrushes. Dipping the same brush into multiple cans dilutes the paint and leads to inaccurate assessments. Think of the way you'd mix peanut butter and jelly.  By using the same knife for both spreads without rinsing, you risk crossing stale peanut taste with fresh jam flavoring.
Mixing and Matching Provides Contrast  
Our final piece of advice regards the mix-and-match technique. Contrast darker colors and lighter colors. You might be pleased by what you get. Besides, accent walls, light fixtures, and window treatments could be game-changers! 
NEW LOCATIONS! VISIT US HERE AND EXPLORE!
We've moved from the Dobbin Road location to our new, roomy location just down the road:
Columbia Paint and Decorating, a Benjamin Moore Dealer: 6822 Oak Hall Lane, Suite C2, Columbia MD 21045 phone number: 443-319-4001
Expect the same one-stop shopping for all your decorating needs. We are a full-service Benjamin Moore dealer offering the best quality decorating products at the best prices around. We have ample paint and paint supplies, wallcoverings, custom window treatments, fabrics, and now, NEW flooring selections from Kaleen Rugs and Luxury Vinyl Tile samples. And, of course, the same excellent customer service, knowledge, and customer satisfaction that you've come to expect.
ANNOUNCING OUR SECOND LOCATION:
Clarksville Paint & Decorating, a Benjamin Moore Dealer
12447 Clarksville Pike, Suite 1A, Clarksville, MD