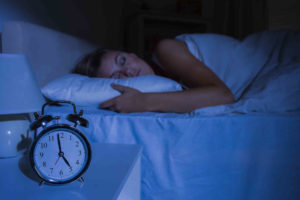 We live in a world awash in anxieties and blue light. So it should come as no surprise that many of us have trouble sleeping soundly. Never fear, though, because science is here! Prayer, meditation, and yoga are all great ways to destress and help you wind down at the end of another chaotic day. Just sit back and scroll through this list of soothing paint colors we've assembled for you!
Counterproductive Colors to Avoid at All Costs 
Alrighty, then, let's begin by voting off the paint colors that will actually make it harder for you to sleep tight. Warmer colors like red, yellow, and orange won't help. That's because they tend to have the opposite effect. Scientific studies have shown that such lively shades are better suited for more energetic rooms such as the kitchen, dining room, and living room.
Instead, Try to Use Neutrals 
One alternative we suggest is to choose neutral paints instead. These tones don't have to be drab or boring, either. Think about it this way – spas, hotels, and resorts all use them to help their patrons relax. Some examples of neutral paint colors include grey, brown, tan, beige, and green. Positivity and relaxation both help you drift off!
The Best Way to Go Catch Some Zzz
You've probably joked about insomnia before. Many hobbies can keep us awake at night. Some examples include finishing that lengthy novel, or playing online games, or streaming your "comfort show" as a way to ease you into dreamland. 
Still, these forms of sensory input can keep your brain stimulated. Insomnia isn't a laughing matter – it diverges into two manifestations – either you can't get to sleep, or you can't stay asleep. Suppose your partner is constantly snoring – what do you do? Instead of taking refuge on the couch, reconsider the colors of the paint on your bedroom walls. 
It turns out that blue is actually the best color to help you go to sleep. Yes, we know we already mentioned blue light emanating from our wide array of electronics. Blue paint is different. Lighter blues or medium hues are going to be your best bet. Another possibility is violet if you prefer your walls to match a certain bedding set!   
NEW LOCATIONS! VISIT US HERE AND EXPLORE!
We've moved from the Dobbin Road location to our new, roomy location just down the road:
Columbia Paint and Decorating, a Benjamin Moore Dealer: 6822 Oak Hall Lane, Suite C2, Columbia MD 21045
 443-319-4001
Expect the same one-stop shopping for all your decorating needs. We are a full-service Benjamin Moore dealer offering the best quality decorating products at the best prices around. We have ample paint and paint supplies, wallcoverings, custom window treatments, fabrics, and now, NEW flooring selections from Kaleen Rugs and Luxury Vinyl Tile samples. And, of course, the same excellent customer service, knowledge, and customer satisfaction that you've come to expect.
ANNOUNCING OUR SECOND LOCATION:
Clarksville Paint & Decorating, a Benjamin Moore Dealer
12447 Clarksville Pike, Suite 1A, Clarksville, MD