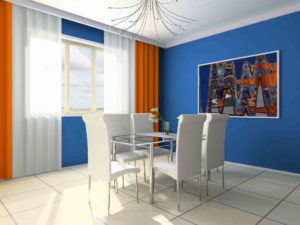 Several weeks ago, we tackled the question of paint and wallpaper being placed next to each other. Now we face another tricky question: is it possible to put new paint over old wallpaper? This query is more common (and complicated) than you would think. Getting rid of worn-out wallpaper is labor-intensive and time-consuming. So it's easy to assume that just splashing paint over it is a quick solution. Certainly, you can try, but the results you get might not be what you want.
Consider the Merits and Drawbacks 
Before you can get started, you've got to decide which option is better. In other words, consider the merits and drawbacks (the pros and cons) of doing so. In the opinion of many painting professionals, putting fresh paint on top of old wallpaper is a bad idea. Why is that the case, you ask? Because what you see likely is what you get, and what you get is ugly.  
Reasons Why You Should Do It 
That said, with the right preparations, you can pull it off. For one thing, this tactic sidesteps the tedium of tearing the wallpaper off. Such a mind-numbing project will leave you so stiff, sore, and aching that you'll end up changing your mind, especially if the wallpaper in question has been around for so long that the adhesive behind it has solidified to the texture of expired honey.   
And the Reasons Why You Shouldn't 
On the surface, the dried paint will look okay. Sadly, should someone attempt to take a closer look, it won't be so pretty after all. That's because the finish will feel rough and give off a bad texture. Besides, there's bound to be crusted-on soil and grease that will be difficult to remove. Failing to find and address these problems beforehand will lead to wasted fresh paint that doesn't fully stick onto the walls as it should. And even if that wasn't an issue, the wallpaper itself might not be fully affixed to the wall. Oh, and the patterns on the paper could still show through even though you've used multiple layers of paint.   
NEW LOCATIONS! VISIT US HERE AND EXPLORE!
We've moved from the Dobbin Road location to our new, roomy location just down the road:
Columbia Paint and Decorating, a Benjamin Moore Dealer: 6822 Oak Hall Lane, Suite C2, Columbia MD 21045 phone number: 443-319-4001
Expect the same one-stop shopping for all your decorating needs. We are a full-service Benjamin Moore dealer offering the best quality decorating products at the best prices around. We have ample paint and paint supplies, wallcoverings, custom window treatments, fabrics, and now, NEW flooring selections from Kaleen Rugs and Luxury Vinyl Tile samples. And, of course, the same excellent customer service, knowledge, and customer satisfaction that you've come to expect.
ANNOUNCING OUR SECOND LOCATION:
Clarksville Paint & Decorating, a Benjamin Moore Dealer
12447 Clarksville Pike, Suite 1A, Clarksville, MD