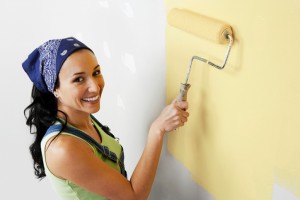 Painting any single room in your house may sound tedious at first. Here's some good news: it doesn't have to be a chore! Here are some more of our favorite recommendations for ensuring you produce professional-grade results! 
Work Your Way Down 
Start at the top and work your way down. Follow the direction of the wet edge; this helps avoid transfer splatter and minimizes the amount of mess you make. Be sure to wait for a clear day with low humidity, since it could make the paint take longer to finish drying if you don't. Fill up the paint tray and dampen the roller to make it easier to spread the paint. Use M or W motions as you go up and down. Once you hear the roller make a strange peeling noise, it's time to add more paint to it. 
Start with the Trim 
Start with the trim before you paint the walls. This is a secret that many homeowners might not be privy to unless they are professional house painters. This makes the whole project go much faster and it also reduces anxiety about getting paint on the walls in spots where you don't want there to be any. 
Use Primer 
If you would use primer for fingernail painting, then the same principle should apply when you decide to paint the walls inside your home. So, that said, be sure to use primer. Doing this will cover up imperfections, prevent staining, and create a smoother surface. 
Clean Up When You're Done
Once you're done painting, be sure to do some cleanup work. Begin this part of the process by pouring leftover paint into the containers where they should be stored. Hammer the lids back into place to prevent leakage. Clean off the brushes, and pull down the drop cloths and move everything in the room back to where they were before you started your painting project!
NEW LOCATIONS! COME VISIT US AND EXPLORE!
We've moved from the Dobbin Road location to our new, roomy location just down the road:
Columbia Paint and Decorating, a Benjamin Moore Dealer
6822 Oak Hall Lane, Suite C2, Columbia MD 21045
443-319-4001
Expect the same one-stop shopping for all your decorating needs. We are a full-service Benjamin Moore dealer offering the best quality of decorating products at the best prices around. We have a large supply of paint and paint supplies, wallcoverings, custom window treatments, fabrics and now NEW flooring selections from Kaleen Rugs and Luxury Vinyl Tile selections. And of course the same excellent customer service, knowledge and customer satisfaction that you've come to expect.
ANNOUNCING OUR SECOND LOCATION:
Clarksville Paint & Decorating, a Benjamin Moore Dealer
12447 Clarksville Pike, Suite 1A, Clarksville, MD