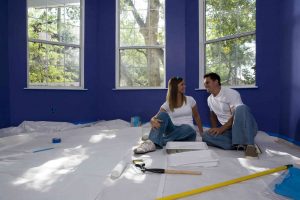 Painting a room sounds like a tedious task, but it doesn't have to be! There are many times where hiring a professional painter will help ensure that you get professional-grade results, but in other cases, you can do it too! Here are four of our favorite suggestions for how to pull it off. 
Find the Best Colors 
Picking the right color depends on the type of room you want to paint. Think about the different zones of your home – kitchens and bathrooms are much different than living rooms and dining rooms. Bedrooms and basements don't look the same, either. Flat paints help hide imperfections, but they are also harder to keep clean. Matte sheens don't have much luster, but they are easier to clean. Choose eggshell or satin sheens for most interior rooms. Semi-gloss and high-gloss are best suited for cabinets, doors, and trim, so choose wisely! 
Clean the Surface
The next step is to clean the surface of whatever you intend to paint. Doing this makes the painting process quicker and easier. Do your best to get rid of grease and then move furniture and other belongings out of the way so they aren't ruined by splotches of falling paint. Measure the walls to see how much paint you need to use. This will require some math, especially if alcoves and dormers are part of the room you are trying to paint. 
Blend Colors Together 
It may sound like unusual advice, but blending colors together actually makes a huge difference. This step calls for multiple cans of the same color. Blend them all into a single patch to make the colors run together even more consistently. If you have leftover paint, put it to good use. Mix partial cans together to help balance out the tone of the palette. The more paint you have, the more painting you can do! 
Try Using Drop Cloths 
Finally, be sure to use drop cloths. For best results, they should be made of cloth and not plastic or paper. These cloths soak up spills and splashes to minimize the mess that painting any room or surface can make while also protecting the floor and the furnishings inside the room.   
NEW LOCATIONS! COME VISIT US AND EXPLORE!
We've moved from the Dobbin Road location to our new, roomy location just down the road:
Columbia Paint and Decorating, a Benjamin Moore Dealer
6822 Oak Hall Lane, Suite C2, Columbia MD 21045
443-319-4001
Expect the same one-stop shopping for all your decorating needs. We are a full-service Benjamin Moore dealer offering the best quality of decorating products at the best prices around. We have a large supply of paint and paint supplies, wallcoverings, custom window treatments, fabrics and now NEW flooring selections from Kaleen Rugs and Luxury Vinyl Tile selections. And of course the same excellent customer service, knowledge and customer satisfaction that you've come to expect.
ANNOUNCING OUR SECOND LOCATION:
Clarksville Paint & Decorating, a Benjamin Moore Dealer
12447 Clarksville Pike, Suite 1A, Clarksville, MD