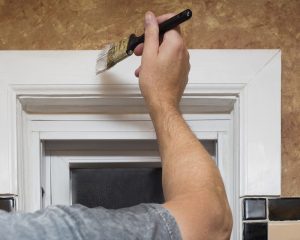 Painting the walls is one of the quickest and easiest ways to make your whole house feel new. A fresh coat of paint can freshen the whole room, but painting does take a good deal of work. If you're worried about the finished product looking its best and you don't have a lot of experience painting, it might be best to hire an interior painting professional. Before you do, you should consider these points.
Make the Important Decisions
Before you hire your professional, you need to decide on the paint color and finish that you want for your walls. When choosing a color, remember that dark colors make rooms feel smaller and light colors make them feel bigger. If you're going to be putting your home on the market, neutral colors are your best bet. When deciding on your finish, flat paint will hide imperfections on the walls but it is also harder to clean. The higher the sheen on the paint, the easier it will be to clean. Eggshell finish is a good in-between finish choice for the best of both worlds.
Ask Your Professional About Extras
If your home was built before 1978, there's a possibility that you could have lead paint on the walls under the existing paint. You will need to make sure that your interior painter is also a qualified lead paint expert who can check for lead paint. You should also make sure you ask ahead of time if there is a charge for extra services, like moving furniture, or for special circumstances, like high ceilings. Finally, make sure that they will do all of the prep work that your room needs, including cleaning, sanding, and repairing any imperfections. 
Get A Complete Contract
Make sure that the contract that your professional gives you is complete. It should include a full detailing of the work to be done, including the products they will use. Make sure that the contract includes the type and brand of primer and the type and brand of paint to be used as well as the number of coats of each. The contract should also include the types of prep work that will be done to the walls. 
NEW LOCATIONS! COME VISIT US AND EXPLORE!
We've moved from the Dobbin Road location to our new, roomy location just down the road:
Columbia Paint and Decorating, a Benjamin Moore Dealer
6822 Oak Hall Lane, Suite C2, Columbia MD 21045
443-319-4001
Expect the same one-stop shopping for all your decorating needs. We are a full-service Benjamin Moore dealer offering the best quality of decorating products at the best prices around. We have a large supply of paint and paint supplies, wallcoverings, custom window treatments, fabrics and now NEW flooring selections from Kaleen Rugs and Luxury Vinyl Tile selections. And of course the same excellent customer service, knowledge and customer satisfaction that you've come to expect.
ANNOUNCING OUR SECOND LOCATION:
Clarksville Paint & Decorating, a Benjamin Moore Dealer
12447 Clarksville Pike, Suite 1A, Clarksville, MD
443-552-1111