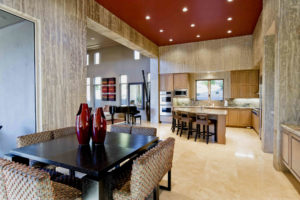 Forgive the pun we made in the title. We just couldn't resist having a bit of fun. Anyway, the days immediately after the Christmas season winds down can be rather gloomy. Even though there are still multiple holidays stretching into January, it feels like all of the festivities have come to an end. Even so, that doesn't mean the good times have to stop! Follow along as we give you some advice on how to make your home's ceiling pop with fresh paint color!
Widen the Space Inside the Room 
The eye is easy to fool. One of the most enjoyable optical illusions to deploy inside your home is to paint the walls and the ceilings. Even if you use contrasting colors, it can still have a dazzling effect on your eyes – it feels as though the space inside the room is expanding! If the room has a relatively low ceiling, then this change becomes even more noticeable. Play around with dark blues, chocolate browns, and smoky greys as well. 
Take the Ceiling Up a Notch 
You may not know what to do with the crown molding inside your home. Regardless of how old your home is, the once-elegant crown molding will probably look a little sad. To fix this, try elevating the sense of style inside the room where the ceiling has been discolored by steam, smoke, or mold damage. Intriguing light fixtures and classy chandeliers can be given a boost by this interior design choice as well. Unfortunately, you might not be able to have guests over for quite some time – but by the time they come back, you can wow them!
Inject the Home with Fun Touch 
Finally, let's talk about the most important function of using the right paint color: infusing your home with some fun zest! Your personality should show through, not only in your taste of artwork or wallcoverings but in the types, textures, and shades of the paint color palette you choose. All of the paint on the walls has a story to tell – but what does that story say about you? 
NEW LOCATIONS! COME VISIT US AND EXPLORE!
We've moved from the Dobbin Road location to our new, roomy location just down the road:
Columbia Paint and Decorating, a Benjamin Moore Dealer
6822 Oak Hall Lane, Suite C2, Columbia MD 21045
443-319-4001
Expect the same one-stop shopping for all your decorating needs. We are a full-service Benjamin Moore dealer offering the best quality decorating products at the best prices around. We have a large supply of paint and paint supplies, wallcoverings, custom window treatments, fabrics, and now NEW flooring selections from Kaleen Rugs and Luxury Vinyl Tile selections. And of course, the same excellent customer service, knowledge, and customer satisfaction that you've come to expect.
ANNOUNCING OUR SECOND LOCATION:
Clarksville Paint & Decorating, a Benjamin Moore Dealer
12447 Clarksville Pike, Suite 1A, Clarksville, MD