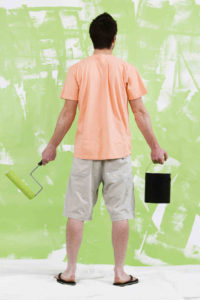 Paint bubbles are a true crime when it comes to properly painting a room. In fact, having paint bubbles pop out can wreak havoc on your walls. However, there are fortunately easy solutions to fix any potential paint bubble outbreaks that may appear. Here are some of the best and most reasonable ways to fix paint bubbling the next time you paint.
What Paint Bubbles?
There are a number of different reasons paint will undoubtedly bubble when painting the walls. In fact, paint bubbles are all too common — particularly when tackling the task yourself. Whether it's because you have dirty walls and forget to use primer or excess moisture and heat, there are a myriad of reasons you can see your paint bubble when painting a room in your humble abode.
Fixing Bubble Paint
When it comes to bubbled paint, you can luckily resolve the situation easily. While it may be time-consuming, fixing bubbled paint can be done. In fact, all it takes is effectively and efficiently scraping away any bumps or cracks with a putty knife — this is very important. Then, you will want to fill any holes and cracks with a proper patching compound. The reality is, once that is complete, you will have to wait overnight until the compound is all dry and then it's time to sand the wall with a fine-grit sandpaper. 
Bottom Line
At the end of the day, there is nothing better than having a room with a fresh coat of paint. In fact, one of the best ways to apply paint is to eliminate the potential for any paint bubbles. The reality is, you can't totally avoid paint bubbles from forming. So if they do form, there are ways you can easily resolve the situation. By using these tips and tricks you can help to ensure your painting process is as smooth and fresh as possible. Tackling a paint job can be done — don't let paint bubbles intimidate you. 
NEW LOCATIONS! COME VISIT US AND EXPLORE!
We've moved from the Dobbin Road location to our new, roomy location just down the road:
Columbia Paint and Decorating, a Benjamin Moore Dealer
6822 Oak Hall Lane, Suite C2, Columbia MD 21045
443-319-4001
Expect the same one-stop shopping for all your decorating needs. We are a full-service Benjamin Moore dealer offering the best quality decorating products at the best prices around. We have a large supply of paint and paint supplies, wallcoverings, custom window treatments, fabrics, and now NEW flooring selections from Kaleen Rugs and Luxury Vinyl Tile selections. And of course, the same excellent customer service, knowledge, and customer satisfaction that you've come to expect.
ANNOUNCING OUR SECOND LOCATION:
Clarksville Paint & Decorating, a Benjamin Moore Dealer
12447 Clarksville Pike, Suite 1A, Clarksville, MD