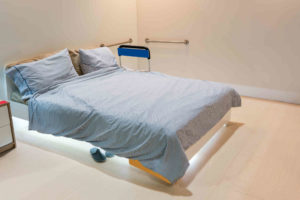 Once again, we'd like to thank you for your support. Keep coming back to us week-after-week! After all, room design is more complicated than it might seem at first glance. The real secret is balancing your wishes with your wallet. So when it comes to the bedroom and your available budget then take some more of our advice! 
Pursue the Power of Paint 
It's right here in our name: we believe that paint can be a beautiful thing. It's so simple and yet transformative that it is easy to forget that the paint inside your home can set the mood. Why do you think people enjoy changing their hair colors or adore colorful, shiny, and textured fingernails? It's all part of that same rhythm that is the true power of what paint can do for you. Sure, it's a tedious way to spend a Saturday afternoon, but even in the ordinary, sometimes, you can spot the extraordinary. 
Plant Your Feet on the Floor 
Something else that we can tell you about is to look down every so often. After all, you mustn't forget about the flooring!! Rugs can offer a softer element so that the hardwood doesn't chill your toes as you stagger into the bathroom every morning. Shag carpets and even a peculiar new friend in a vintage-style kilim can make your master bedroom floor unique!
Supercharge Your Storage 
We all know the struggle – too much clutter, not enough storage. It's a dilemma that can vex you throughout the house, not just in your sleeping quarters. But your bedroom should be a place of serenity for you. No matter what your sleep schedule is like, you owe it to yourself. So, with that said, do your best to supercharge your bedroom storage space. Closet organizers, fabric storage bins (they look like milk bottles to feed your newborn!) and nesting baskets all make simple and snappy solutions. 
NEW LOCATIONS! COME VISIT US AND EXPLORE!
We've moved from the Dobbin Road location to our new, roomy location just down the road:
Columbia Paint and Decorating, a Benjamin Moore Dealer
6822 Oak Hall Lane, Suite C2, Columbia MD 21045
443-319-4001
Expect the same one-stop shopping for all your decorating needs. We are a full-service Benjamin Moore dealer offering the best quality decorating products at the best prices around. We have a large supply of paint and paint supplies, wallcoverings, custom window treatments, fabrics, and now NEW flooring selections from Kaleen Rugs and Luxury Vinyl Tile selections. And of course, the same excellent customer service, knowledge, and customer satisfaction that you've come to expect.
ANNOUNCING OUR SECOND LOCATION:
Clarksville Paint & Decorating, a Benjamin Moore Dealer
12447 Clarksville Pike, Suite 1A, Clarksville, MD