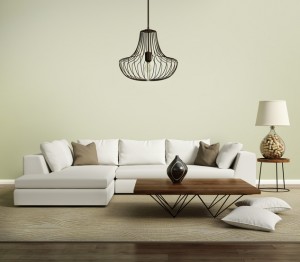 Different parts of your home call for different paint schemes. After all, one of the easiest ways to start transforming your home's interior is to play around with the colors and textures of the paint you use on the wall. Wallpaper is a fading decorative element of many homes. Talk to your interior designer and also talk to the experts here at Columbia Paints to find out how we can assist you! 
Find Reputable Professional Painters
As you sit down to decide how to proceed, take the time to do some research. While some rooms in the house are simple enough to paint (and you want to try doing-it-yourself) it ultimately comes down to your experience level. There's a reason why professional painters are so successful – they are available to take over when beginners feel uncomfortable or are otherwise unwilling to get the actual painting work done. The team you choose will clean the walls and ensure that there is no dust or debris that could ruin the smooth look of the paint once it has dried. Tarps and painters tape will also be used in abundance to help protect your home's walls, floors, and furniture. 
Talk to the Professionals You've Chosen 
So now that you've found the team you want to work with (such as the experts here at Columbia Paint) feel free to ask us all of your questions. No question is too silly or insignificant – we absolutely understand that you want the best-looking paint for your living room. We will strive to satisfy your expectations of excellent results. Professional house painters can advise you about the level of sheen you'll want to look for in the paint that you select. 
Choose the Color and Paint Style You Want
Once you've narrowed down your choices of paint brand, it's time to decide what colors and styles you want to add to your walls, doors, windows, and ceilings. A vision board can help you track your various sources of inspiration – such as magazines you subscribe to or websites you follow for more tips. 
Make Sure to Maintain the Paint 
Everything in your home calls for some level of maintenance. The paint in your living room – and, for that matter, the entire living room itself – will need to be kept clean and tidy. One way to make sure that the new coat of paint looks its best is to follow a persistent routine of dusting the walls, washing away stains, and repairing any damage that you might notice.  
NEW LOCATIONS! COME VISIT US AND EXPLORE!
We've moved from the Dobbin Road location to our new, roomy location just down the road:
Columbia Paint and Decorating, a Benjamin Moore Dealer
6822 Oak Hall Lane, Suite C2, Columbia MD 21045
443-319-4001
Expect the same one-stop shopping for all your decorating needs. We are a full-service Benjamin Moore dealer offering the best quality of decorating products at the best prices around. We have a large supply of paint and paint supplies, wallcoverings, custom window treatments, fabrics, and now NEW flooring selections from Kaleen Rugs and Luxury Vinyl Tile selections. And of course, the same excellent customer service, knowledge, and customer satisfaction that you've come to expect.
ANNOUNCING OUR SECOND LOCATION:
Clarksville Paint & Decorating, a Benjamin Moore Dealer
12447 Clarksville Pike, Suite 1A, Clarksville, MD