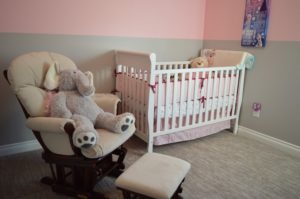 When it comes to choosing a paint color for a little one's room, making a final decision can be a difficult task. There are so many different choices — especially when it comes to whether or not you know the sex of your baby. As a result, for a newborn's room, understanding the best paint colors for the new bundle of joy can be difficult. Here is a helpful guide to make the process less stressful and more enjoyable. Soon enough, you'll be able to make the decision regarding the perfect paint color for your new bundle of joy.
When Choosing a Paint Color, Pick Pastels
Sometimes, the color isn't necessarily the issue but knowing whether pastels work in a baby's room or not can help make the selection process easier for you. In fact, pastels tend to work wonderfully in a baby's room. The reality is, pastels evoke a youthful and harmonious feel. That means, when using pastels, the best place to use them in your home is in a baby's nursery. However, if colors are intimidating, you might find it more beneficial to incorporate pastels via an accent wall in your little one's room. This could be a great option, particularly when you want to make the room feel light and airy overall.
Never Go Wrong With a Neutral Paint Color
Who doesn't love a neutral paint color? In fact, neutrals tend to be the most coveted paint colors for a baby room. The reality is, neutrals work wonders in a variety of spaces, and a baby's room is no different. If pastels aren't your thing, neutrals can be a great way to have a cohesive trend throughout your home — particularly if you have neutral paint colors throughout your humble abode already. 
Bottom Line
At the end of the day, knowing the best color options for your new baby's room can make a world of a difference. When choosing a paint color for a new baby's room is a difficult task that can be easier than you may initially expect. 
NEW LOCATIONS! COME VISIT US AND EXPLORE!
We've moved from the Dobbin Road location to our new, roomy location just down the road:
Columbia Paint and Decorating, a Benjamin Moore Dealer
6822 Oak Hall Lane, Suite C2, Columbia MD 21045
443-319-4001
Expect the same one-stop shopping for all your decorating needs. We are a full-service Benjamin Moore dealer offering the best quality of decorating products at the best prices around. We have a large supply of paint and paint supplies, wallcoverings, custom window treatments, fabrics, and now NEW flooring selections from Kaleen Rugs and Luxury Vinyl Tile selections. And of course, the same excellent customer service, knowledge, and customer satisfaction that you've come to expect.
ANNOUNCING OUR SECOND LOCATION:
Clarksville Paint & Decorating, a Benjamin Moore Dealer
12447 Clarksville Pike, Suite 1A, Clarksville, MD