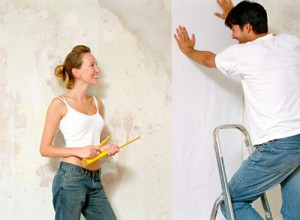 When it comes to your home, having wall coverings that are fun can make all the difference for your home's interiors. In fact, there are many different things that can create a fun environment in your home. One of these would be wall coverings. The reality is, taking your home to the next level can be done with the help of fun wall coverings. But, knowing what specific wall coverings to use for your home can be overwhelming and difficult. Here is a helpful guide to help you make the most of your home's interior with some fun wall coverings. 
Adding Stone Textures
Incorporating some stone textures throughout your home is an excellent way to make your home look and feel warm and inviting. In fact, natural stone is a touch of texture that can really spruce up and refresh any space in your humble abode. The reality is, you can always find a cost-effective way to get natural stone in your home — with stone wallpaper. This can be a great way to get the look you want without breaking the bank or your budget.
The Addition Of Lighting Medallions
Another great thing for homeowners to incorporate in their homes are lighting medallions. In fact, many people who want to avoid covering their walls with wallpaper can truly welcome the newness of lighting medallions. Dressing your ceiling with these fun fixtures can bring some joy and lightness into your space.
Incorporating Wall Tiles
When it comes to your walls, adding some wall tiles can truly make all the difference. In fact, most people think of tile as something that goes on the floor or is solely used as a backsplash in your kitchen. But tiles can be very versatile. As a result, you can use tiles on your walls. This is a fun and unique way to refresh your home and bring some new life into the space. 
NEW LOCATIONS! COME VISIT US AND EXPLORE!
We've moved from the Dobbin Road location to our new, roomy location just down the road:
Columbia Paint and Decorating, a Benjamin Moore Dealer
6822 Oak Hall Lane, Suite C2, Columbia MD 21045
443-319-4001
Expect the same one-stop shopping for all your decorating needs. We are a full-service Benjamin Moore dealer offering the best quality of decorating products at the best prices around. We have a large supply of paint and paint supplies, wallcoverings, custom window treatments, fabrics, and now NEW flooring selections from Kaleen Rugs and Luxury Vinyl Tile selections. And of course the same excellent customer service, knowledge, and customer satisfaction that you've come to expect.
ANNOUNCING OUR SECOND LOCATION:
Clarksville Paint & Decorating, a Benjamin Moore Dealer
12447 Clarksville Pike, Suite 1A, Clarksville, MD