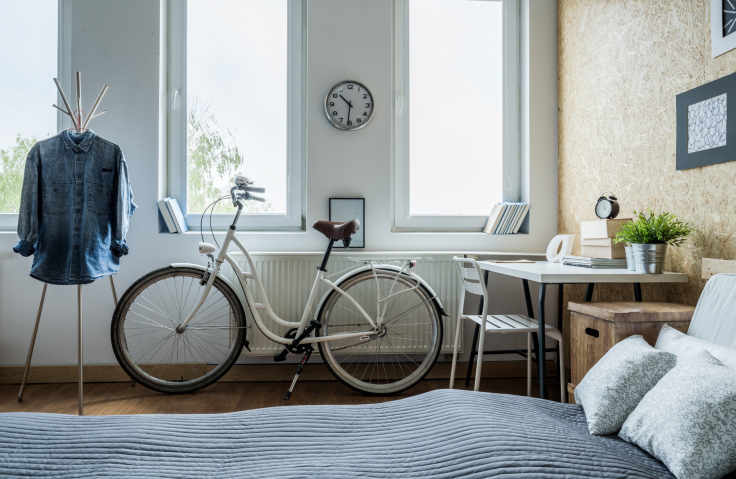 Finding the right paint colors for every room of your home is important. Kitchens, bathrooms, and bedrooms all demand different color schemes. The color of the paint in your bedroom makes more of a difference than you might think. So if you aren't sure what to do, just follow our guide! 
Think About the Mood 
First things first, think about what mood and tone you want to set for the bedroom. Do you want to feel clean and fresh? Cozy and comfortable? Energized or relaxed? All of these attributes can be achieved by choosing the right paint colors for your bedroom. 
Pastels 
Pastels can also affect the mood of the room. These shades can be welcoming and imbue the bedroom with a sense of serenity. 
Making the Small Space Bigger 
Darker colors help a small space feel larger than it really is. A dark wall with lighter bedding and accessories is a fantastic contrast that you should play around with and see if it works for you. 
Coolness and Relaxation
In the heat of summer, having a cool place to sleep makes a huge difference. No one wants to wake up covered in sweat, especially if you like to nestle in the blankets and sheets at night regardless of the season. Keeping the room between 60 and 67 degrees Fahrenheit is more conducive to sleep, as is choosing cooler colors that help encourage getting a good night's sleep.  
Balancing Energy and Relaxation 
You want the bedroom to be a place that renews you. That's why balancing energy and relaxation is important. That's why you should consider painting your bedroom in shades of green. It charges the room with some energy while still allowing it to be an oasis of relaxation. Whether you have a traditional aesthetic or a modern one, green works equally well. Plus, it's a great way to let some nature into your home! 
Experimenting with Color 
Sometimes, you don't need to go all out. Just try experimenting with color to see if it suits your bedroom. One idea is to paint an accent wall red. This energizes the space without being too overwhelming. 
NEW LOCATIONS! COME VISIT US AND EXPLORE!
We've moved from the Dobbin Road location to our new, roomy location just down the road:
Columbia Paint and Decorating, a Benjamin Moore Dealer
6822 Oak Hall Lane, Suite C2, Columbia MD 21045
443-319-4001
Expect the same one-stop shopping for all your decorating needs. We are a full-service Benjamin Moore dealer offering the best quality of decorating products at the best prices around. We have a large supply of paint and paint supplies, wallcoverings, custom window treatments, fabrics, and now NEW flooring selections from Kaleen Rugs and Luxury Vinyl Tile selections. And of course the same excellent customer service, knowledge and customer satisfaction that you've come to expect.
ANNOUNCING OUR SECOND LOCATION:
Clarksville Paint & Decorating, a Benjamin Moore Dealer
12447 Clarksville Pike, Suite 1A, Clarksville, MD