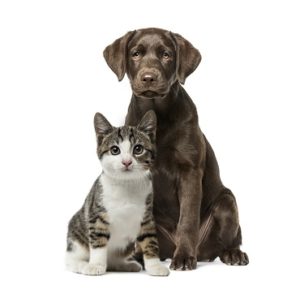 No painting project is the same. Every house is different, and so are the living conditions within it. What are your current circumstances? Do you have pets or intend to adopt some any time soon? In that case, their presence could throw a wrench into your plans for painting the interior of your home. Here's what to remember and account for as you proceed with caution!
Ways the Paint Affects Your Furry Friends 
First of all, let's talk about how the fumes from the paint will sicken your pet fam. The chemicals known as volatile organic compounds (VOCs) can affect humans just as badly, too. As the paint dries, these carcinogenic chemicals spread out throughout your house. Skin, eye, and lung irritation can result. You'll also notice worrisome symptoms like dizziness, coordination issues, tremors, tummy troubles, and difficulty breathing. Lead paint exposure makes the chances of sickness even more likely. Lethargy, depression, and difficulty walking are signs that your pet needs urgent medical attention. 
The Paints You Shouldn't Use 
Which paints should you refrain from using? The first thing you should do is to read the list of paint ingredients. Look for varieties that say "no VOC" and low VOC on their labels. Choose paints that do not contain any toxic ingredients or heavy metals. When it comes to protecting your pets, do your homework first. Completing due diligence research tasks will ensure a pet-safe house painting process. This step is important because even VOC-free-based paints might still contain VOC. How is this possible? The pigment could contain the VOCs instead. In the end, you'll want to find paints that don't decrease indoor air quality and stop the growth of mold and mildew. 
Tips for Preventing Harm to Your Pets 
All of this information sounds overwhelming, we know. But we promise that it shouldn't dissuade you from painting the interior of your home. Your house deserves to look beautiful, inside and out! So what can you do to keep everyone under your roof safe? Move the pets into another room where they will be unaffected by the paint fumes. Make sure they can still reach their food, water, toys, beds, and litter boxes. You can also ask a relative or friend to watch your pets for a few days as long as the people you talk to aren't part of your household.  
NEW LOCATIONS! VISIT US HERE AND EXPLORE!
We've moved from the Dobbin Road location to our new, roomy location just down the road:
Columbia Paint and Decorating, a Benjamin Moore Dealer: 6822 Oak Hall Lane, Suite C2, Columbia MD 21045 phone number: 443-319-4001
Expect the same one-stop shopping for all your decorating needs. We are a full-service Benjamin Moore dealer offering the best quality decorating products at the best prices around. We have ample paint and paint supplies, wallcoverings, custom window treatments, fabrics, and now, NEW flooring selections from Kaleen Rugs and Luxury Vinyl Tile samples. And, of course, the same excellent customer service, knowledge, and customer satisfaction that you've come to expect.
ANNOUNCING OUR SECOND LOCATION:
Clarksville Paint & Decorating, a Benjamin Moore Dealer
12447 Clarksville Pike, Suite 1A, Clarksville, MD