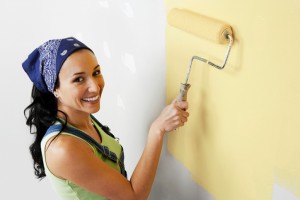 Mapping out your interior painting schedule doesn't need to be an exercise in frustration. It's easy to get vexed when you are looking to refresh your home's atmosphere's look-and-feel. Still, it can be done quickly and efficiently enough to let you get on with your day. Here's a handy guide on how to carry this mission out! 
Figure Out Your Goals 
First of all, you've got to decide what your goals for the project are. In other words, why are you painting in the first place? Perhaps it's in service to a remodeling project where you aim to update your kitchen or bathroom. On the other hand, maybe you are getting ready to sell your home. A fresh coat of paint both inside and outside your home can help boost potential resell value and convince prospective buyers to choose your house over one down the street. Painting the guest bedrooms and guest bathrooms could also be the easiest way to get into the swing of things! 
Tackling the Bedroom 
So now, let's talk about the bedroom. Getting the master bed and bath out of the way and taken care of is another excellent method for starting your painting project. After all, it won't disrupt your daily routine. Plus, the new colors will energize you and keep you motivated to get the rest of the house done. 
Homing In on the Kitchen 
Yes, you do need to repaint the kitchen from time-to-time. Depending on your needs and finances (can you afford to order delivery or grab takeout every night?), you may or may not want to paint the kitchen first. If you plan on having your kitchen renovated, then add this to your list of tasks!
Moving Onto the Living Room 
Whatever you want to call it – a den, a family room, a TV room, and so on – the living room is going to be another continually-occupied area in your house. Because of its size and the amount of furniture in it, you have some work to do before you can get going on your interior painting ambitions. We suggest that you leave this zone for last. 
Finishing with the Laundry Room
Alternatively, you could follow the schedule we've recommended and end your rotation by painting the laundry room last. Remove your clothes, towels, and other laundry items from the room the day you want to get the painting project accomplished. After that, leave your belongings outside the laundry room. While this sounds inconvenient, it'll prevent your laundry from absorbing nasty paint fumes!
NEW LOCATIONS! VISIT US AND EXPLORE!
We've moved from the Dobbin Road location to our new, roomy location just down the road:
Columbia Paint and Decorating, a Benjamin Moore Dealer
6822 Oak Hall Lane, Suite C2, Columbia MD 21045
443-319-4001
Expect the same one-stop shopping for all your decorating needs. We are a full-service Benjamin Moore dealer offering the best quality decorating products at the best prices around. We have a large supply of paint and paint supplies, wallcoverings, custom window treatments, fabrics, and now NEW flooring selections from Kaleen Rugs and Luxury Vinyl Tile samples. And, of course, the same excellent customer service, knowledge, and customer satisfaction that you've come to expect.
ANNOUNCING OUR SECOND LOCATION:
Clarksville Paint & Decorating, a Benjamin Moore Dealer
12447 Clarksville Pike, Suite 1A, Clarksville, MD