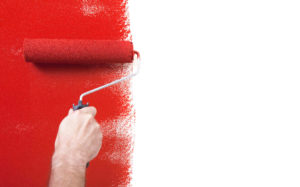 As hard-to-believe as it sounds, you can get your next painting project done faster than you expect. Oh, sure, painting for fun is bound to be time-consuming and frustrating as you seek to pour your creativity out onto your easel. But when your entire home can serve as your canvas, you can really unleash your imagination. Here are some fantastic tips for painting a room in just about an hour! 
Advice for Getting Started
Start by getting all of the furnishings out of the way. In other words, move the furniture, paintings, mirrors, curtains, blinds, and light fixtures and put them in the hallway. Alternatively, you could hide them in an adjoining room until after the paint on the walls has finished setting. You'll also need to deploy drop cloths and painter's tape to hold the dropcloths in place. Use some sandpaper to sand down the wooden trim. Grab your vacuum to clean up the dust on the floor. You will also want to vacuum the walls and ceiling with a soft brush attachment to avoid leaving unsightly scratches and gouges. Filler knives can help deal with cracks and holes that you might find in the walls. Apply light coats of paint and step aside to let them dry properly. 
Pointers Actually Painting
Now comes the fun part: actually getting down to the business of painting your room! Stepladders, rollers, telescoping extension poles, and paint trays are necessary to make this part of the process go as smoothly as you want. 
Designate two people to handle painting the walls. Likewise, name someone to take care of the trim. Smaller paintbrushes and small buckets filled with your chosen paint also need to be at the ready. Ultimately, you won't have to tackle the entire project on your own. Thick and smooth coats on each wall inside the room will ensure an even-looking paint job that shouldn't be lumpy. 
NEW LOCATIONS! COME VISIT US AND EXPLORE!
We've moved from the Dobbin Road location to our new, roomy location just down the road:
Columbia Paint and Decorating, a Benjamin Moore Dealer
6822 Oak Hall Lane, Suite C2, Columbia MD 21045
443-319-4001
Expect the same one-stop shopping for all your decorating needs. We are a full-service Benjamin Moore dealer offering the best quality decorating products at the best prices around. We have a large supply of paint and paint supplies, wallcoverings, custom window treatments, fabrics, and now NEW flooring selections from Kaleen Rugs and Luxury Vinyl Tile selections. And, of course, the same excellent customer service, knowledge, and customer satisfaction that you've come to expect.
ANNOUNCING OUR SECOND LOCATION:
Clarksville Paint & Decorating, a Benjamin Moore Dealer
12447 Clarksville Pike, Suite 1A, Clarksville, MD