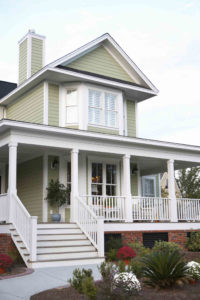 What are you up to this weekend? By applying a fresh coat of paint to your home's exterior, you can give it an inexpensive facelift. The tricky part is figuring out how to get started. But let's suppose you know what you've got to do – so what comes next? Take a look at these tips we've collected for you to follow!
Prepare The Surfaces and Perform Inspections
First of all, make sure you prepare the surfaces that you want to paint. For example, let's suppose that you want to add some stucco to your home's outside layers. The stucco needs to cure for about a month first. Otherwise, the paint won't stick on properly. This, in turn, means that the paint will look strangely dusty or chalky. Make sure you remove any old paint that has started to peel or chip. Likewise, get rid of any mold or mildew that you find. A simple garden sprayer loaded with a chlorine-bleach solution should destroy the decay that has accumulated on your house's exterior. 
Take Care of Patching and Caulking
After you've cleaned your home's face, you'll need to do some patch-and-caulk work. A fresh application of caulk will seal up open cracks and joints that are exposed to the elements. Door frames, molding, window frames, and fascia boards are particularly vulnerable to damage, so focus on them before continuing your exterior painting project. 
Take Your Time and Prep the Primer 
Repainting your house isn't supposed to be a race. Take your time. Prepare the primer before you move on; the primer helps the paint last longer. After all, primers are typically formulated to act as sealants that give the paint another surface to adhere to, and that is good news for homeowners looking to refresh their home's aesthetic! If your home features wood or vinyl siding, then be sure to use latex primer to shine them up again!  
Pick the Best Paint Possible
Here is our last piece of advice: don't hesitate to choose the highest quality paint you can find. Picking the best paint possible will pay off in the long run, and you'll be thankful that you made such an investment in your home's look and feel. 
NEW LOCATIONS! VISIT US AND EXPLORE!
We've moved from the Dobbin Road location to our new, roomy location just down the road:
Columbia Paint and Decorating, a Benjamin Moore Dealer
6822 Oak Hall Lane, Suite C2, Columbia MD 21045
443-319-4001
Expect the same one-stop shopping for all your decorating needs. We are a full-service Benjamin Moore dealer offering the best quality decorating products at the best prices around. We have a large supply of paint and paint supplies, wallcoverings, custom window treatments, fabrics, and now NEW flooring selections from Kaleen Rugs and Luxury Vinyl Tile samples. And, of course, the same excellent customer service, knowledge, and customer satisfaction that you've come to expect.
ANNOUNCING OUR SECOND LOCATION:
Clarksville Paint & Decorating, a Benjamin Moore Dealer
12447 Clarksville Pike, Suite 1A, Clarksville, MD