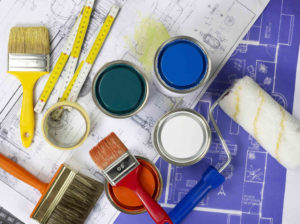 Painting each room in your house can infuse them with some new life. However, since this process isn't exactly the most fun way to pass the time, you might end up making it a weekend project. Take your time; house painting isn't something you can rush through and hope for the best. We're here to let you know what tools you'll need to achieve the best-looking results. 
Different Paint Color Samples 
Testing various swatches of paint is a solid first step. If you don't use these samples, you could choose a color that doesn't work with the aesthetic or the room. Even worse, it could just look downright ugly. Avoid these ghastly mistakes by using paint chips, color cards, or web-based visualizer software. 
Trisodium Phosphate 
Trisodium phosphate sounds scary, but it's not as bad as you think. Most of the time, it's used to clean off a swimming pool deck. That said, you can use it inside as well. Before you embark on any complicated house painting project, you've got to clean and degrease the wall in question. TSP lets you do that – and it'll clean off your paintbrushes as well!
Some Masking Film
Masking film also needs to be in your toolkit. It's something that professional painters use, so you know it's good. With this film, you can protect windows, doors, cabinets, accent walls, and furniture. That way, they won't be stained with paint splotches or dust particles. This film uses static electricity to cling to the surface you attach it to as well. Some varieties of masking film will come prepared with painter's tape already applied. 
A Canvas Drop Cloth
Much like masking film, it's a good idea to get some tarps or drop cloths. Canvas and plastic are far and away the most popular materials used for house painting purposes. While canvas drop cloths tend to be more expensive, they are tear-resistant. Plastic drop cloths, meanwhile, are less expensive. They're also meant to be disposable, so after one use, you should get rid of them. Even so, some types of plastic drop cloths are thick enough to be reused as long as they aren't stepped on. Either way, tape the loose edges to the nearby floor, so nobody slips, trips, and falls because of it.  
NEW LOCATIONS! VISIT US AND EXPLORE!
We've moved from the Dobbin Road location to our new, roomy location just down the road:
Columbia Paint and Decorating, a Benjamin Moore Dealer
6822 Oak Hall Lane, Suite C2, Columbia MD 21045
443-319-4001
Expect the same one-stop shopping for all your decorating needs. We are a full-service Benjamin Moore dealer offering the best quality decorating products at the best prices around. We have an ample supply of paint and paint supplies, wallcoverings, custom window treatments, fabrics, and now NEW flooring selections from Kaleen Rugs and Luxury Vinyl Tile samples. And, of course, the same excellent customer service, knowledge, and customer satisfaction that you've come to expect.
ANNOUNCING OUR SECOND LOCATION:
Clarksville Paint & Decorating, a Benjamin Moore Dealer
12447 Clarksville Pike, Suite 1A, Clarksville, MD