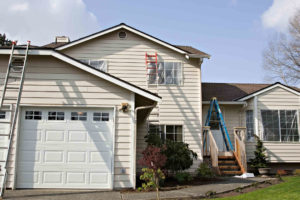 You might have heard the saying that "practice makes perfect." That's very true. But there's another hidden ingredient in the recipe for success: plenty of preparation. Being prepared helps you avoid mistakes, decrease the level of panic when something goes wrong and helps you account for and overcome any unforeseen problems. That type of composure is essential when you're working on a home improvement project – no matter what it is! To that end, we've put together a quick list of tips and tricks for house painting! 
First Off, Why Does Prep Work Matter? 
Prep work makes a gigantic difference. Unfortunately, first-time home painters often overlook this part of the process. That's because they automatically assume (incorrectly) that it won't take that long; all there is swabbing on the paint and then letting it dry. As it turns out, multiple steps are involved, and they must be followed if you want the paintwork to stick. Otherwise, the overall painting job will look poorly planned, and you'll have to deal with unsightly consequences such as bubbles, drips, exposed nail holes, or nasty cracks in the wood. 
Inspect All of Your Windows and Doors 
One way to prevent this nightmare scenario from unfolding is to inspect your home's exterior features. For example, take some closer looks at all of your windows and doors. While this sounds like odd advice, take our word for it. That's because you'll need to check on the condition of your home's drip edge flashing. 
Older homes, on the other hand, probably only have a few weak layers of caulk. By doing the inspection, you can verify that there are signs of water damage or moisture infiltration. Discolored paint is a bad sign – and you should be worried if you see the old paint rotting. Although you'll be inclined to simply mask the problem areas, that's the wrong move. Why is this the case? Well, mold and mildew growth can do even more damage to the wood and edging. Then, you'll need to replace them instead of giving them a pretty new coat of paint.
Sanding and Powerwashing Makes a Difference 
Old, worn-out paint presents a serious eyesore. That's the main reason you need to get rid of it before embarking on your next house painting project. Sanding and power washing can blast away all of the old crud, grit, and debris accumulated over the years. Dust, dirt, pollen, and other such pollutants can ruin the look of your freshly painted exteriors or your home's facade.
Take Your Time!
In the end, we'd like to leave you with this one last piece of advice: take your time. A hasty painting job will exhibit just how rushed it was. But, conversely, a proper painting job demands several coats, or else the results will be less than stellar.
NEW LOCATIONS! VISIT US HERE AND EXPLORE!
We've moved from the Dobbin Road location to our new, roomy location just down the road:
Columbia Paint and Decorating, a Benjamin Moore Dealer: 6822 Oak Hall Lane, Suite C2, Columbia MD 21045
 443-319-4001
Expect the same one-stop shopping for all your decorating needs. We are a full-service Benjamin Moore dealer offering the best quality decorating products at the best prices around. We have ample paint and paint supplies, wallcoverings, custom window treatments, fabrics, and now, NEW flooring selections from Kaleen Rugs and Luxury Vinyl Tile samples. And, of course, the same excellent customer service, knowledge, and customer satisfaction that you've come to expect.
ANNOUNCING OUR SECOND LOCATION:
Clarksville Paint & Decorating, a Benjamin Moore Dealer
12447 Clarksville Pike, Suite 1A, Clarksville, MD